Now celebrating their 10th anniversary, the Schulich Leader Scholarships have allowed hundreds of students to explore, thrive and make a difference. Founded by philanthropist Seymour Schulich through his Schulich Foundation, the four-year awards support Canadian university students with entrepreneurial aspirations rooted in the STEM disciplines: science, technology, engineering and mathematics.
After 10 years of growing the program, the Schulich Foundation now awards up to 100 scholarships per year. In 2021, 10 went to University of Toronto students. Valued at $80,000 for science, technology or mathematics students and $100,000 for engineering students, the awards also include membership in the growing Schulich Leaders Network of successful alumni—like Kwan, Khan and McInnis.
"Warmest congratulations to Seymour Schulich and the Schulich Foundation on the 10th anniversary of these very important scholarships," says Meric Gertler, President of U of T. "And thank you for the difference you've made, by supporting Canada's next generation of leading innovators and problem-solvers. The Schulich Leader Scholarships help ensure that our greatest young minds can take advantage of the opportunity of a stellar education, so they can realize their full potential."
The Schulich Leader Scholarships program is graduating talented future leaders every year. The stories of Kwan, McInnis, and Khan illustrate three inspiring paths to success, and the tremendous potential embodied the program.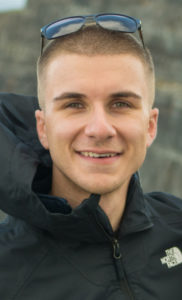 Danny McInnis (MechE 1T9+PEY): Thinking like a leader
For Danny McInnis, being a Schulich Leader is about opportunities to develop—and exercise—creative and collaborative thinking. Entering U of T with the 2015 cohort of Schulich Leaders, McInnis completed a degree in mechanical and industrial engineering. Today, he's working with Logitech in Ireland, in a job that "sits between engineering and design," he explains. "The first product I worked on here, a minimalist keyboard, just got released, which was really exciting. I get to work on products for creatives like myself and gamers, too, which is super rewarding."
At U of T, his opportunities to lead were tightly linked with opportunities to stretch his mind. It began with living in residence with students from 90 different countries. "You can imagine the range of experiences," he says. "It was really, really cool." He took leadership opportunities, first as a residence don and then as a team lead on the Hyperloop project, in which students create a pod to race in a vacuum tunnel. In both cases, he says, "I often found myself learning from the other students. It was cool, because the collective effort of a team of 40 versus just one person is hard to beat."
Similarly, he appreciated the inspiration of the Schulich Leaders Network: like-minded friends doing amazing work. He's mentored younger students and helped recruit companies to participate in the network's job fairs. "Any way that I can help, I'm always happy to do it."
McInnis holds patents for a concussion-prevention helmet and a robotic video control system, but he's also shared an invention by making it open-source: a system for 3D printing low-cost custom prosthetics. "The part that I enjoyed the most was seeing the difference that it made for the five-year-old boy who tested our prototype," he says. "We decked it out in a Spider-Man theme and you could just see him light up with excitement—it was probably one of my favourite memories from engineering."
Impact and innovation are intertwined, says McInnis. "Making products that allow people to create and stay creative is really interesting to me." He keeps his own mind nimble through filmmaking.
"When I moved out to Ireland I was looking for things to do. I'm a big boxing and martial arts fan, and I thought the traits that I see in professional fighters, like resilience and quick thinking, were very similar to the adaptability shown by businesses during Ireland's strict lockdowns. Some of them had crazy ideas to keep their business afloat, but it was those ideas that saved them. It was a defensive move, that put them on offense—one of the many parallels to fighting. So I used my documentary to follow three pro fighters and three local business owners to show that maybe we aren't so different after all!"
Read the full article and learn about other scholarship recipients at Boundless.