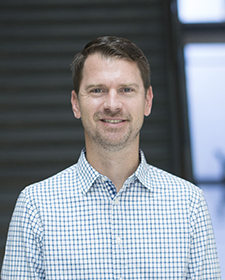 Professor Greg Jamieson is a is a Professor and Clarice Chalmers Chair of Engineering Design in the Department of Mechanical & Industrial Engineering at the University of Toronto. He received Bachelor of Science degrees in Mechanical Engineering and Psychology (with Distinction) from the University of Illinois at Urbana-Champaign, and the Masters of Applied Science and Doctor of Philosophy degrees in Human Factors Engineering from the University of Toronto. He joined the Department as a faculty member in 2002 and is currently serving as Interim Chair.
What do you enjoy most about working in the Department?
MIE is a great place to work for many reasons, and a big one for me is the ability to pursue the teaching and research I am most interested in. There is so much support from both faculty colleagues and department staff to engage in rewarding work and explore my areas of interest.
What excites you about the Interim Chair position?
One of the appeals of the Interim Chair position was the opportunity to learn more about what makes the department "work". I'm looking forward to playing a bigger part in enabling our outstanding faculty and staff to succeed at the work they do. The Interim Chair position will allow me to be a part of creating opportunities for staff and faculty to grow and for the Department to continue to evolve and meet the needs of our community.
Do you have any advice for students joining MIE this fall?
I want to tell students that as they join MIE they are both becoming a member of our community and a part of continuing to build on that community. Everyone in the department plays a role here and having new students, faculty and staff joining helps renew and build upon the great community we have here. Know that you belong here and are an essential part of shaping our department.
What are you looking forward to most in the 2022-2023 academic year?
I'm most excited for the two academic searches the Department will be conducting. Bringing new faculty members into the department is a very important and rewarding process. It's exciting to meet professors with new ideas and perspectives that will contribute to MIE's student experience, research output and community.
Do you have any favourite spots on campus to take a break?
We are fortunate to have many wonderful communal spaces on campus and when I'm walking around I often think about the MIE connection to those spaces – Professor Emeritus and former MIE Chair Ron Venter had a strong involvement in developing university common spaces, like the Philosopher's Walk, as well as the Myhal Centre for Engineering Innovation & Entrepreneurship.
How do you like to spend your free time?
I'm a huge soccer fan. While I don't play much anymore I love watching. I'm a season ticket holder for the Toronto Football Club and love talking soccer with faculty, staff and students who are also fans. I'm looking forward to catching World Cup games in the Graduate Student lounge beginning in November!
-Published August 29, 2022 by Lynsey Mellon, lynsey@mie.utoronto.ca