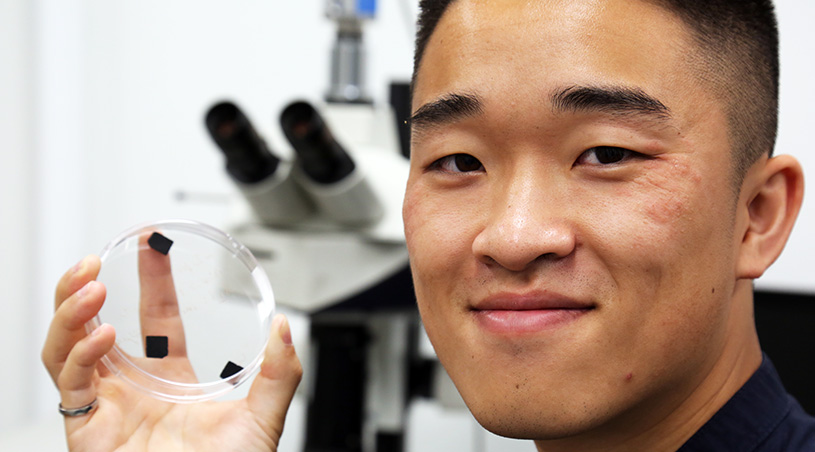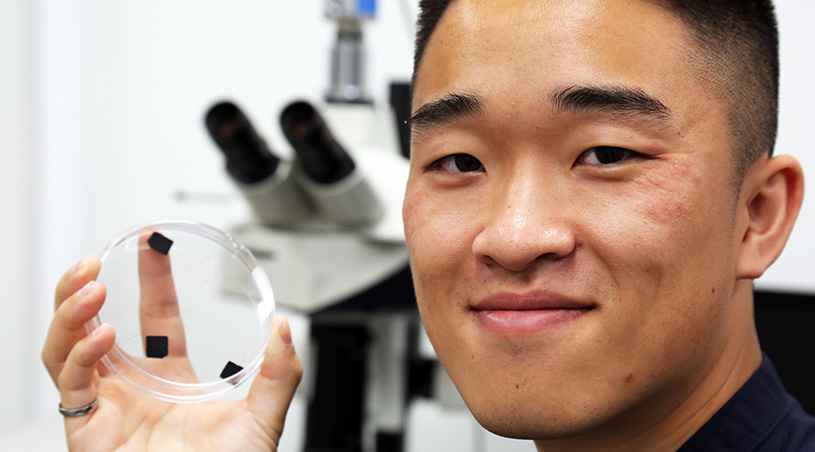 The department awarded Second Year MASc student Andrew Wong second place for his oral presentation at this year's Graduate Research Symposium held on June 27. We visited his lab in MB to learn more about his experience that day, as well as his thoughts on being a grad student at MIE.
Tell us a bit about your research.
My research is on the topic of investigating how to improve the performance of a clean energy device called a fuel cell. Fuel cells allow us to generate energy with zero, local carbon emissions (imagine  only water coming out of your exhaust pipe!). My supervisor is Prof. Aimy Bazylak.
What inspired you to study this topic?
Coming from Alberta where carbon-intensive resource extraction is the main economic driver, there wasn't much space for renewable energy work. This opportunity to work on a technology that can help push us towards a greener society was too good to pass up.
What was the biggest challenge you faced during the symposium?
The biggest challenge was tailoring the talk to a non-technical audience from a wide variety of backgrounds. Technical communication is a balancing act where you have to deliver a captivating presentation without losing too many of the nuts and bolts.
What was the biggest surprise about being a grad student?
The biggest surprise was the degree to which I would become the leader of the projects I worked on. I had to conceive, develop and conduct studies, becoming an expert in my field along the way.
What's the best aspect of the MIE department in your view?
I believe the strongest aspect of the MIE department is its commitment to continually improving the experience for students (both undergrad and graduate).
If you could give one piece of advice to current or future grad students, what would it be?
Find what inspires you and pursue it!