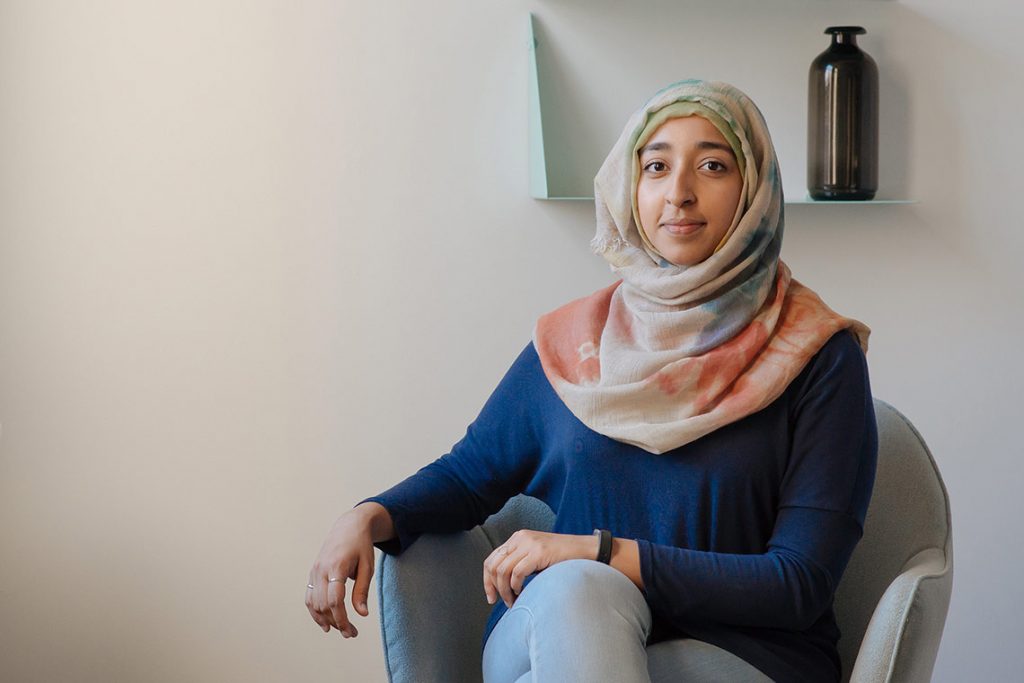 December 11, 2017 – The television show 30 Rock once joked Toronto is "just like New York but without all the stuff." But the same can't easily be said when comparing the two cities' startup scenes.
At least, that was what Huda Idrees (IndE 1T2 + PEY) took away from her recent visit to New York City as part of Toronto Mayor John Tory's two-day trade mission to promote the idea of a cross-border tech corridor to rival Silicon Valley.
Idrees, founder and CEO of health records startup Dot Health, says many seemed shocked to learn Toronto added more tech jobs between 2015 and 2016 than New York City and Silicon Valley combined.
"It was quite a surprise for most of the people there," says Idrees, a U of T engineering grad who worked at several local startups before launching her own.
"That's because, to them, Toronto probably feels like, 'Yeah, it probably has a tech sector, but it's probably not very big."
In reality, Toronto has painstakingly built an expansive innovation ecosystem in recent years – including the one built around U of T, local hospitals and the neighbouring MaRS Discovery District – and is now enjoying a tech boom that's attracting some of the world's biggest companies.
The New York trade mission, which included more than a dozen representatives from local startups, was part of Tory's effort to further capitalize on the city's momentum.
Tory's trip included a visit to Sidewalk Labs, the Google affiliate that recently announced it will bebuilding a "smart city" on Toronto's waterfront.
The delegation also spent time at Grand Central Tech, an innovation hub in the heart of Manhattan, where the Toronto entrepreneurs gave presentations on their startups.
Idrees spoke about Dot Health's efforts to give Canadian's easy access to their medical histories. The event's attendees also heard from U of T alumnus Allen Lau, who is the co-founder and CEO of online story-telling platform Wattpad, Karl Martin, the founder and CEO of Nymi, which makes a wearable device that uses your heartbeat as a biometric identifier, and Farhan Thawar, who is a co-founder of corporate video message firm Helpful.com.
There were also representatives from startups spun out of Toronto's – and U of T's – fast-growing artificial intelligence, or AI, scene, a field that's expected to revolutionize everything from transporation to health care.
"We had a lot of artificial intelligence visibility, which is good because we have such a deep talent pool, compared to some of the other ecosystems," Idrees says.
"Instead of officials getting up there and just saying, 'Toronto is cool.' It was getting founders who work and run businesses to get up there and talk about it. It was different and I found it really powerful."