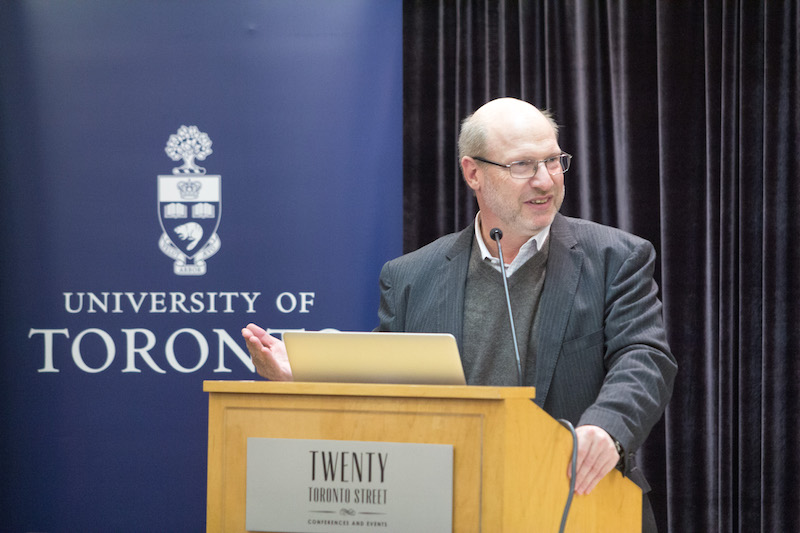 July 6, 2015 — Professor Mark Fox (MIE) has been named a University of Toronto Distinguished Professor of Urban Systems Engineering, an honour that recognizes his exceptional career achievements and promise.
Awarded by the U of T Office of the Vice-President and Provost, Fox holds the title for a five-year term, beginning July 1, 2015. He is one of only 25 U of T faculty members and six Engineering professors that actively hold this distinction.
Fox is a pioneer in the theory and application of artificial intelligence in industrial systems. He is the director of the Enterprise Integration Laboratory (EIL) at U of T Engineering, a centre that investigates how organizations can build smarter cities locally and globally through the use of information and communications technologies. He is also director of the new Centre for Social Services Engineering, which applies engineering theories and techniques to the efficient and effective delivery of social services.
Fox focuses on developing ways of representing knowledge about cities, whether it be the services they provide or the infrastructure they maintain, in mathematical models. Known as ontologies, these models enable the development of smart cities.
In 1981, Fox's research led to the creation of the field of "Constraint Directed Scheduling" within artificial intelligence, which is used in all modern scheduling systems today. He also spearheaded the application of artificial intelligence to project management, simulation and material design.
In 1984, he co-founded the software company Carnegie Group Inc., which specialized in intelligent systems for solving engineering, manufacturing and telecommunications problems. The firm provided logistics planning technology to the US Department of Defense. In 1992, he co-founded Novator Systems, a pioneer in the design and delivery of eCommerce software and services.
"I congratulate Professor Mark Fox on this well-deserved honour," said Professor Ted Sargent, vice-dean of research at U of T Engineering. "It recognizes his remarkable achievements and leadership in his field over many years, and is yet another example of our Faculty's commitment to excellence."
Fox is a senior fellow in the University's Global Cities Institute and a past holder of the NSERC Industrial Research Chair in Enterprise Integration. He is also a fellow of the Association for the Advancement of Artificial Intelligence and was a co-founder of the AAAI Special Interest Group in Manufacturing. Furthermore, he was elected a joint fellow of the Canadian Institute for Advanced Research (CIFAR) and PRECARN. He received the Engineering Institute of Canada's Canadian Pacific Railway Medal in 2011.
Fox earned a BSc in computer science from the University of Toronto in 1975, and his PhD in computer science from Carnegie Mellon University in 1983. Prior to his return to Toronto, he was an associate professor of computer science and robotics at Carnegie Mellon. He was a founding member of the Carnegie Mellon's Robotics Institute, founding director of the Robotics Institute Intelligent Systems Laboratory and founding director of the Center for Integrated Manufacturing Decision Systems of The Robotics Institute.