The University of Toronto recognized 20 Varsity Blues student-athletes with Silver T awards on Monday, April 12.
The prestigious Silver T is awarded to Bronze T holders in their graduating year for outstanding athletic performance.
In years past, the awards were handed out at the annual President's Reception, however, the University of Toronto campuses remain closed as we play our part to ensure the health and wellbeing of our community during the COVID-19 pandemic.
Nevertheless, U of T President Meric Gertler understands and values the exceptional accomplishments and contributions of these U of T students to the university and Varsity Blues program.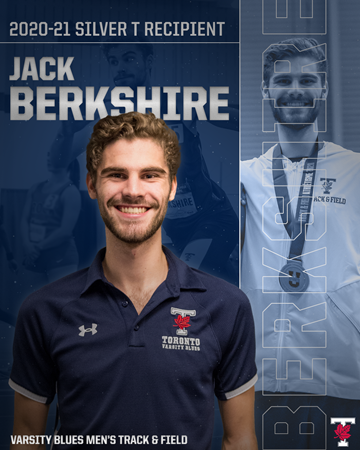 Jack Berkshire – Track & Field 
Jack Berkshire is a four-time OUA all-star and three-time U SPORTS all-Canadian over four seasons with the Varsity Blues track and field team. The native of Fredericton kicked off his U of T career with a bang, helping the Blues 4×400 relay team win OUA gold and 4×200 relay team win the U SPORTS title in 2017. After earning two silver medals in both relays at both the provincial and national championships in 2018, Berkshire was a driving force between U of T's best team finish since 1994-95 in 2019. The industrial engineering major claimed the OUA silver and U SPORTS bronze medal in the 600m event, while also earning a national bronze medal in
the 4×400 relay as Toronto finished second overall at both the OUA and U SPORTS championships.  Berkshire capped off his career with an individual gold-medal finish in the 600m at the 2020 OUA championships. He earned three other medals that year, including the OUA 300m bronze, U SPORTS 4×400 silver and U SPORTS 600m bronze.
View the full list of recipients on the Varsity Blues website.