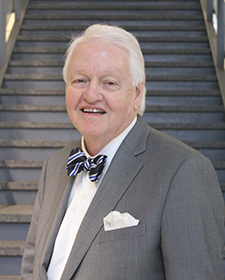 Charles Ward, Professor Emeritus, University of Toronto
Charles Albert Ward was born in Bailey, Texas, on May 28, 1939, and passed away on October 12, 2022, in Bridgepoint Hospital, Toronto. He went to Magnolia High School and then took Mechanical Engineering at the University of Texas. An excellent student, he was accepted as a PhD student at Northwestern University and was granted the degree in 1967. Seeking an academic position afterward, he was encouraged by a fellow Ph.D. student from Canada to consider the University of Toronto. He did, and joined the Department of Mechanical Engineering as an Assistant Professor on July 1, 1967, Canada's centennial birthday.
Charles had a sparkling academic career, becoming a full Professor in 1977. He retired in 2004 at age 65, as required by the university at that time (mandatory retirement was eliminated later), and he was granted the honour of Professor Emeritus. He did not actually retire, though, for he continued in the Department with graduate-level teaching and his usual full program of research. He was an outstanding scientist in thermodynamics and received awards in that field. Chief among them were two prestigious Alexander von Humboldt Fellowships, which were held at the Technische Universität Munchen, and at Universität Erlangen-Nurnberg, Germany. He spent a year at each university, as well as a year at the CNRS (Centre national de la recherche scientifique) Laboratory in Meudon, France, as a Visiting Scientist.
His fundamental research, both theoretical and experimental, was conducted at the molecular level, much like the work of a physicist. Indeed, his many publications were generally in journals such as Chemical Physics and Physical Review. The high regard for his research was also recognized by substantial financial support from many sources, including the Canadian Space Agency, the Natural Sciences and Engineering Research Council, and the Institute of Environmental Medicine. The grants and contracts enabled him to conduct wide-ranging research and to supervise many graduate students. Those students became devoted to the associated scientific fields, and to him. They appreciated his great teaching.
In the Department, he became the best dressed member – typically a suit and a signature bow tie, the attire of a southern gentleman. In fact, he fit that role well, for he was courtly, kind, and thoughtful; he spoke well, and was admired by his colleagues.
Charles met the love of his life, Barbara, in high school, and in 1959 they married. In Toronto they had a fine life, with a lovely home within an easy walking distance of the campus. She took the Cordon Bleu course in Paris while they lived in Meudon. Her haute cuisine at home was shared with others through marvelous dinner parties, with matching wines chosen by Charles. They enjoyed opera performances and visits to the Art Gallery of Ontario. His hobby was reading, especially the biographies of famous physicists. Barbara passed away in 2016, a huge loss for Charles.
He is survived by family members in Texas: brother, John and his wife Cissy; nieces, Susan and Delinda; and nephews, David (Clara) and Johnny (Nell). Charles's sister, Delia, predeceased him.