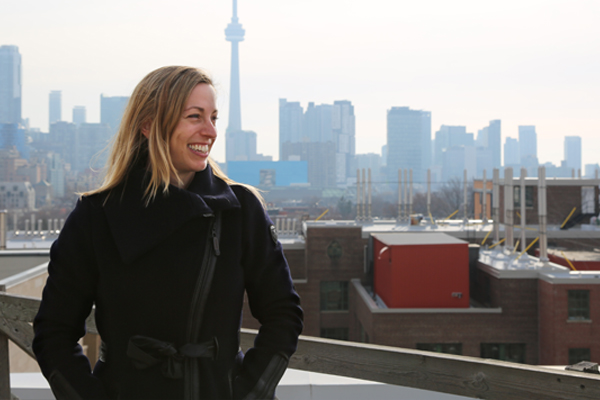 January 25, 2017 – In cities from coast to coast, condominium towers are being constructed at an unprecedented rate, with 30,000 new units added in 2015 to the Toronto market alone. This is driven both by recent advances in the design, engineering and construction of tall buildings, and a stark increase in demand for these multi-unit residential buildings (MURBs). "More people are moving downtown," says Professor Marianne Touchie (CivE, MIE). "There's very limited space, so we need high-density housing options and MURBs provide that."
With a background in building science, Touchie studies the relationships between energy efficiency and indoor environment quality parameters, such as thermal comfort, in these high-density buildings. In Toronto, one of the largest suppliers of MURBs is Toronto Community Housing Corporation (TCHC), which owns 50 million square feet of residential space and houses 110,000 residents. Many of these are older buildings without air conditioning.
"A lot of these buildings rely on ventilation through the building envelope, which is not terribly effective. At the same time, we need to reduce our energy consumption and energy use," she says. "But reducing energy usage has implications for occupants, and that's what I'm interested in studying."
Touchie is currently collaborating with The Atmospheric Fund (formerly the Toronto Atmospheric Fund) on a large research project—one that she has been involved with since her role as their Building Research Manager from 2014 to 2015. She and her colleagues are collecting data on energy consumption, temperature, humidity and carbon dioxide concentration in more than 70 apartments spanning seven different TCHC buildings.
"It's probably the most comprehensive MURB monitoring project in North America, if not the world," says Touchie.
They are also working with Professor Jeffrey Siegel (CivE), who is examining concentrations of formaldehyde, particulate matter and, through a partnership with Health Canada, radon concentrations. Touchie says that collaborations, such as those with TCHC, The Atmospheric Fund and Siegel, are critical to creating a comprehensive picture of the MURBs she studies. "Buildings are so complex," says Touchie. "I have training in one particular area, but I'm not an indoor air quality expert. When we make changes from an energy perspective to the ventilation system, or the heating and cooling system, it has an influence on the air quality. Working with other experts, like Professor Siegel, we can gather data on all sides."
Touchie's findings with The Atmospheric Fund and TCHC have drawn the interest of Toronto Public Health. The agency is interested in the health impact of extreme heat, and the study has found that these TCHC buildings are often overheated, especially in the summer.
"Extreme heat is a health problem, especially for the most vulnerable populations," says Sarah Gingrich, a Health Policy Specialist at Toronto Public Health. Very young children, the elderly and people with illnesses or taking certain medications are most at risk. "This work is providing evidence that excessive heat is a problem in older apartment buildings in Toronto. The research is showing that although the temperature cools down at night outside, in these buildings it rises during the day and they stay hot all night long."
Touchie and her collaborators are finding that a major culprit for the inefficient heating and cooling performance is uncontrolled air leakage. These leaks often occur around windows, doors, exhaust fans and elevator shafts. But inefficiencies aren't just a building issue: she adds that "because people can do whatever they want in their own homes, like open and close their windows, MURBs combine the complexity of high-rise buildings with the occupant wild card," which makes managing the indoor environment even trickier.
"The study provides valuable information on Toronto apartment buildings that will help to inform policy development," says Toronto Public Health's Gingrich. "It fills a very important gap by providing up-to-date data that highlights some of the challenges in this type of building, and points to potential solutions."
Next, Touchie hopes to expand her research to newer condos, where data is even scarcer. "They're going up so quickly, and we really have no information about the quality of the indoor environment or their energy performance," she says. "I am very curious whether their energy consumption matches the performance level promised at the design stage."