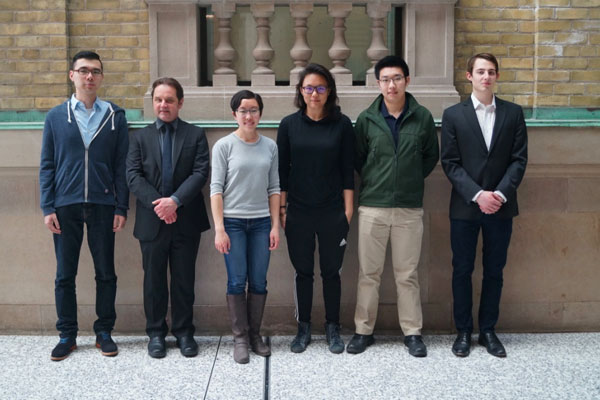 April 17, 2017 – Genecis, a student startup devoted to recycling food scraps into value-added products, has won the $5,000 second-place prize in the early-stage category of the inaugural RBC Prize for Innovation and Entrepreneurship.
The business pitch competition, held March 31, aims to reward and accelerate the best startups coming out of U of T. Student-led teams from all three campuses gathered at the Goldring Centre for High Performance Sport to share their most innovative ideas with an audience of startup enthusiasts, including investors and entrepreneurs.
Founder and CEO Luna Yu and her teammates, Bowen Le (Year 4 ChemE), Robert Fairley(Year 2 ECE), Fady Soliman (MechE 1T6), and Owen Li, aim to reduce food waste in restaurants by leasing on-site, automated machines that collect and process organic materials. The processed food waste will then be sold to companies that turn it into biodegradable plastics, bio-fuel or pharmaceutical drugs.
Genecis plans to target commercial kitchens that waste an average of 1.3 tonnes of food every week in North America. In an effort to divert food scraps from landfills, cities across America and Europe are instating organic disposal bans which prevent commercial buildings from throwing food waste away with regular garbage.
As a result, restaurants are finding it increasingly difficult and costly to dispose of organics. Genecis provides an easy, cost-effective solution to this problem while also benefitting the environment.
"We will be using the prize money to complete the construction of our prototype. It means a lot for us to receive the capital and support needed to fund our research and continue to improve our prototyping," says Yu.
Once completed, Yu says that a single machine will be able to offset 243 tonnes of carbon dioxide emissions every year. "Standard passenger vehicles release 4.7 tonnes of CO2 every year, which means a restaurant can offset the emissions of 51.7 cars just by using one of our machines," adds Yu.
Yu and her team are continuing their entrepreneurial journey as members of The Entrepreneurship Hatchery's 2017 Nest cohort this Summer. They hope to have a finished viable commercial prototype to bring to market by Demo Day in September.
 For more information about The Hatchery, please visit uoft.me/hatchery.