May 24, 2017 – At Spring Convocation on June 13, 2017, more than 1,800 U of T Engineering students will mark both the end of one journey and the beginning of another. Having enriched the U of T Engineering community as undergraduate and graduate students, they will transition into our vibrant, global network of Skule™ Alumni, where they will continue to address pressing challenges around the world.
This year's 14 "Grads to Watch" embody the spirit of U of T Engineering. Selected by their home departments and institutes, they demonstrate the engineering values of creativity, innovation and global impact. MIE is proud to see graduate student Edem Dovlo (MechE PhD 1T7) and undergraduate Daksh Sikri (IndE 1T7) named among this year's Grads to Watch. Watch their next steps!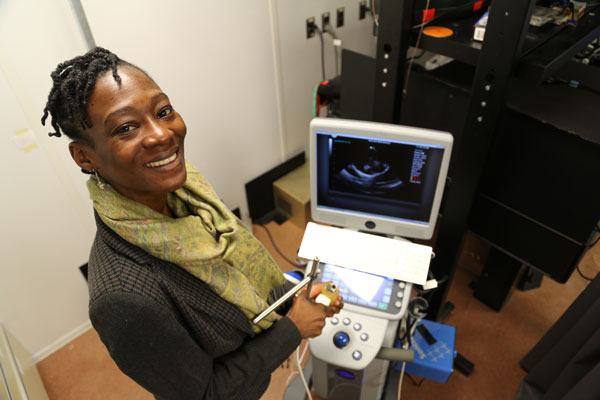 Studying under Professor Andreas Mandelis (MIE), Dovlo designed new medical imaging systems that combine photoacoustic radar with traditional ultrasound. The advanced technique can detect cancer tumours at a much earlier stage than current techniques, and can even provide information on how malignant the cancer is likely to be. This in turn could lead to earlier interventions and better survival rates.
"My experience in MIE has been greatly shaped by the people here," says Dovlo. "Having an experienced and knowledgeable supervisor who challenges his students and treats us with respect is a key part of that. The more I learn, the more I realize how much more there is to discover."
In addition to publishing several papers on her work, Dovlo served as a Project Manager for 1Room, a Kenya-based, community-focused project that leverages technology and evidence to make high-quality schooling affordable and accessible underserved populations. After graduation, she plans to work either in Canada or her native Ghana. "I am eager to incorporate the expertise acquired in my combined experiences to my future endeavours," she says. "I do not know what the future holds but I am optimistic."
Shout out: "I'd like to thank the Graduate office, Operations, External Relations & Communications support staff who have greatly enriched my experience at MIE (and UofT). Their dedication, insight and flexibility have been invaluable as they have worked to enhance services in response to the diverse needs of students."
Born and raised in Mumbai, Sikri came to North America for the first time to join U of T Engineering. He found the perfect environment to pursue his passion for business and entrepreneurship. "The past four years have shaped my mindset, both personally and professionally," he says.
Sikri was a driving force within the You're Next Career Network, eventually serving as its president. In particular, he focused on growing its activities in the startup space, organizing new events and expanding the Startup Career Expo. He also completed internships in analytics and cloud computing at IBM, and business development at Pivotal Software. His undergraduate thesis, supervised by Professor Roy Kwon (MIE), involved building a piece of software that optimized asset liabilities for individual investors.
After graduation, Sikri plans to work on a startup venture he conceived during his undergraduate studies. He can't reveal much about the venture itself, but is receiving support from Next Canada as well as The NextAI program and the Creative Destruction Lab. "I hope I can take the problem-solving and entrepreneurial mindset I developed here out into the world to identify big challenges and develop solutions," he says.
Shout out: "I want to thank every friend, mentor, team and professor who made the past four years such an adventure and who convinced me that I'm up for all the different challenges. I'd also like to thank my parents and my sister for their unconditional love and support from halfway across the world."