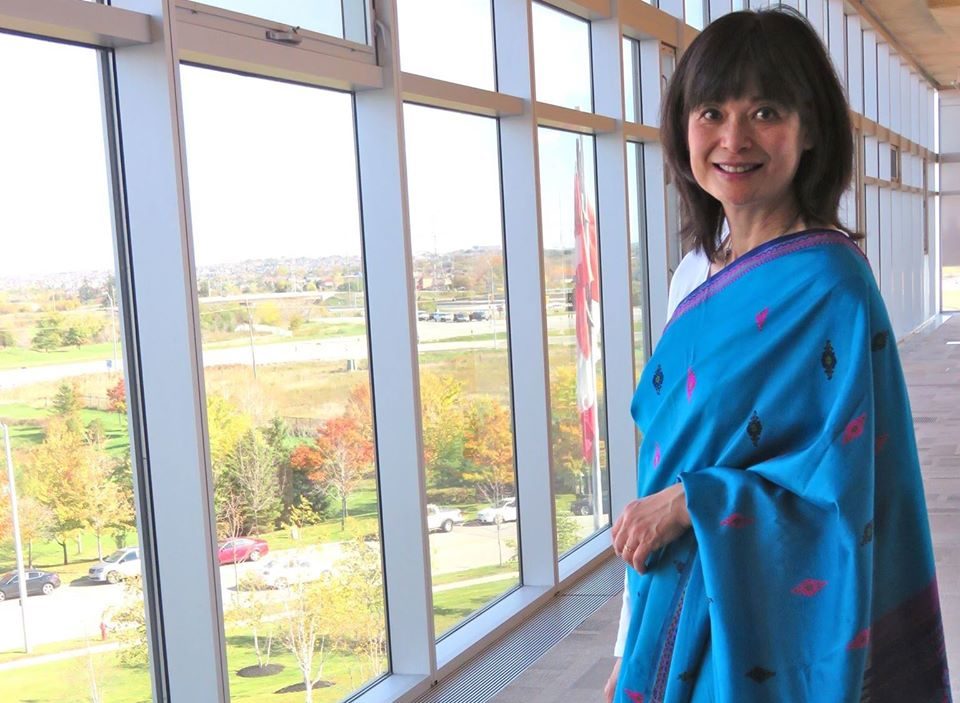 Ann Nguyen (IndE 8T6) has a special connection with U of T. Now an IT Expert at Loblaw Company Limited, Ann looks back on the start of her university career as a refugee and new Canadian and credits graduating from U of T for a great deal of her success. One of the ways she continues to stay involved is through the U of T Engineering Alumni Applicant Assessor Program. This program engages alumni in reviewing the written and video submissions that showcase an applicant's extracurricular activities, communications skills, and future aspirations. By providing input on the diverse group of applicants, applicant assessors help shape the future of U of T Engineering. Ann will be starting her seventh year with the Alumni Applicant Assessor Program this fall.
In 1979, at the end of the Vietnam war, Ann and her family joined thousands of other refugees – known as the boat people –  in leaving Vietnam by boat to arrive at a refugee camp in Indonesia. In February of 1980 they arrived in Canada. Just two years later, Ann began studying engineering at U of T.
"I've always been so grateful for the opportunity U of T gave me as a newcomer to Canada. I did not speak or write perfect English and I may not have been the typical applicant on paper," Nguyen recalls, "I had to work extra hard to succeed. Graduating from a prestigious university gave me both immense pride in myself and also opened the door to so many opportunities. "
"Graduating from a prestigious university gave me both immense pride in myself and also opened the door to so many opportunities."
When Ann returned to campus in 2011 for an Alumni Reunion she felt her connection to the University renew. As she wandered the campus and saw many of the buildings completely unchanged memories of herself as a student came rushing back. Shortly after, she saw that U of T Engineering Alumni were recruiting applicant assessors. She was inspired to apply in an effort to give back to the University that had given her so much.
Ann was selected to be a part of the program and began her orientation in the fall of 2014. "It felt just like going back to school!" Ann said, "It was really interesting to learn about the admissions process and to assess more than jus t grades. There is so much value in different experiences. It reminded me of my own anticipation and excitement of being admitted to U of T."
For Ann, being a part of the process that led to the transformation of her own life is incredibly meaningful. Sifting through the applicants' stories and experiences highlights the importance of looking beyond grades and searching for students with unique opportunities that fit the admission criteria.
"Not all students are afforded the same opportunities in life, but by looking at their unique stories and extracurricular activities, we may be able to give them the opportunity of a lifetime to study at U of T, regardless of what their background may be." Ann said as she told me she still had her own acceptance letter.
Over the years Ann's brother as well as two nephews also graduated from U of T Engineering and her connection to the University continued to deepen. One of her nephews, Davis Tien Doan (CivE 0T7), was well-known for his volunteer work in the Skule Community and was recognized posthumously with the Malcolm F. McGrath Alumni Achievement Award in 2011. Ann's own commitment to volunteering with U of T Engineering in the Applicant Assessor Program is just one way she can continue to honour his memory.
"I encourage everyone to try out the Applicant Assessor Program at least once. You will absolutely get something out of it. Everyone's journey is different, but I expect you will discover something new about yourself and have the experience of reflecting back on your roots and the starting point of your career."
This year, the U of T Engineering Alumni Applicant Assessor Program will take place entirely online. Alumni from across Canada and around the world can apply to participate via the program website. The time commitment is a flexible 9-11 hours per month between November 2020 and May 2021. The deadline for application is July 31, 2020.
-Published July 13, 2020 by Lynsey Mellon, lynsey@mie.utoronto.ca