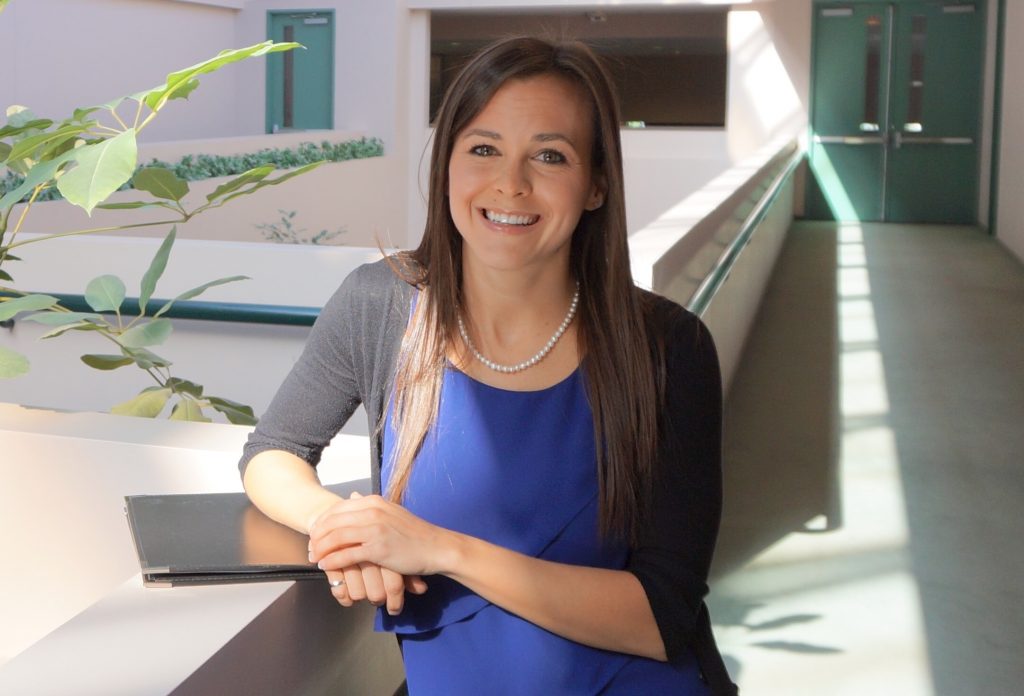 May 15, 2018 – Meet Holly Johnson (MechE 0T9 + PEY), MDA's rising star and youngest manager. She's worked at MDA, Canada's largest space company, since her days as a Professional Experience Year (PEY) Co-op student. Since graduating in 2010, Johnson has propelled herself into leadership roles, helping to apply space technology to applications in medical, nuclear and advanced manufacturing.
In 2016, she received the Northern Lights Foundation's Rising Star award, a prestigious Canadian aviation and aerospace award that honours outstanding Canadian women who have made significant contributions in their field.
MIE recently spoke to Johnson to learn more about her extraordinary career.
Why did you choose to study Mechanical Engineering at U of T?
I chose to study Mechanical Engineering at U of T to position myself with the knowledge, experience, and practical skills that would maximize my opportunities upon graduation. U of T's world-renowned reputation, access to resources, and strong connections to industry gave me confidence that I could build my career upon a solid foundation.
What made your time at MIE memorable?
My best memories at MIE include the countless days (and sometimes nights!) working with my classmates to solve hard problems. The personal satisfaction in taking on a challenge and working together to find an ideal solution is something that still resonates with me today. Creating and fostering a positive team dynamic is the best way to solve the toughest challenges, and I personally try to bring this approach to all of the teams that I work with.
How did your PEY engineering experience at MDA prepare you, and guide you, towards your career today?
I completed my Professional Experience Year at MDA, where I was fortunate to work on the Canadarm operations team. During this time I developed practical insight into real-world applications, while also gaining key skills in problem solving, communication and leadership. My professional development during my PEY, largely supported by a few key mentors, put me in an ideal position to return to MDA after graduation to continue my dream of working in the space industry.
You are the youngest manager at MDA. What skills or traits do you think have helped propel you to this role?
I have always had a strong passion for the work that we do at MDA, and my desire to connect with people – including customers, colleagues and the public – has provided me with key opportunities to take on leadership roles throughout my career.
Thinking back to my time at U of T Engineering, my involvement in the Engineering Outreach Program (including Sci-Camp, Skule Sisters, amongst others) played a pivotal role in sparking my desire to connect people to engineering. Being able to communicate technical ideas to an audience with varying backgrounds is a useful skill that I developed during my Outreach activities, and one that I continue to employ on a daily basis in my current job.
Tell us more about your career at MDA, and what you have been involved in.
After graduating from MIE in 2010, I returned to MDA to work as a Systems Engineer. MDA is best known for developing the Canadarm, Canadarm2, and Dextre robotics, but we have also had success in applying this space technology to terrestrial applications such as medical, nuclear, and advanced manufacturing.
While working as a Systems Engineer I was involved in a wide range of these projects – from designing an MRI compatible robot for brain surgery, to developing next generation concepts for space exploration robotics. In 2016, I transitioned into the role of Business Development Manager, where I looked for opportunities to apply MDA's robotics and automation expertise into new applications.
What are your plans for the future, both short term and long term?
Within the past month I am very excited to have taken on a new role as President's Business Manager. This developmental position will allow me to work closely with the MDA President to support the business needs, while also gaining insight and perspective at the executive leadership level.
As someone with a deep passion for MDA's heritage and Canada's role in space, I hope this position is another stepping-stone to becoming a valuable member of the senior leadership team. In the future, I'd be thrilled to have a front-row view of the amazing technologies that MDA will bring to space and the world.
What advice would you give to young alumni, or engineering students graduating next month, who aspire to have a successful career like yours?
The words of wisdom I would offer to engineering graduates in the early phase of their career is to connect with people. Ask questions, be a humble listener, and learn from the experience and wisdom of others. Engineering will provide you with the technical background to build your career, but your interactions with people along the way will provide the brightest waypoints on your journey.