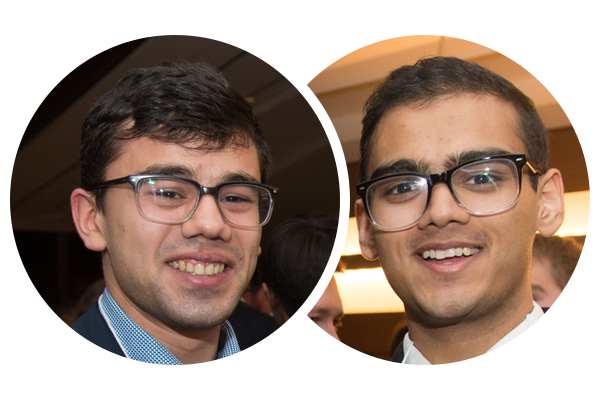 June 6, 2016 — Ashis Ghosh (MechE 1T5 + PEY) and Nishant Samantray (MechE 1T3 + PEY) are among four U of T Engineering students striving to bring their business ideas to fruition in this year's cohort of The Next 36.
Ashis Ghosh and Karim Koreitem (ECE 1T5 +PEY) studied different disciplines, but when they met in U of T Engineering's Multidisciplinary Capstone Design course, they each found a kindred spirit. "We were able to share perspectives on what excited us," says Ghosh. "It became clear that we both had entrepreneurial ambitions, so we began meeting on a regular basis to investigate potential business ideas."
Today Ghosh and Koreitem are business partners. Though specifics of their startup are top-secret for now — they can say only that it involves using machine learning to provide simple solutions to data-rich problems — they both credit their undergraduate education with preparing them for the world of entrepreneurship. "The variety of opportunities within the U of T Engineering community, combined with a strong culture of leadership, helped us develop the diverse set of skills and critical perspective that we needed to drive our startup idea forward," says Ghosh.
Ghosh and Koreitem are two of the four recent U of T Engineering graduates selected for this summer's cohort of The Next 36. Founded in 2010 and championed by Canadian business leaders W. Galen Weston, Paul Desmarais, Sr. and Jimmy Pattison, The Next 36 aims to fast-track the development of Canada's most talented young innovators. More than 30 U of T Engineering students have been selected for the program since its inception, nurtured by a rich ecosystem of on-campus support for entrepreneurship that includes Start@UTIAS, The Entrepreneurship Hatchery and many more startup accelerators within the Banting & Best Centre for Innovation & Entrepreneurship.
"The Next 36 connects you with an unbelievable community of new and established Canadian entrepreneurs," says Koreitem. "It's an incredible opportunity." Both students say their leadership roles on design teams — Koreitem with the University of Toronto Robotics Association and Robotics for Space Exploration; Ghosh with the University of Toronto Aerospace Team — contributed to the success of their applications.
---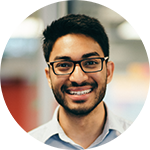 Nishant Samantray — MechE 1T3 + PEY
One of the lessons that Samantray learned during his undergraduate degree was the importance of effective teamwork, a challenge he hopes to address with his startup, Tandem.
"Working in teams online is nothing like working in person," says Samantray. "Teams have to explain their problems using emails or messages. It can be a mess, especially for software developers, who have multiple people working on a single code base at the same time."
Tandem is an online tool that integrates directly into developers' work flow, allowing them to make changes to their colleagues' code base in real time. It is compatible with popular messaging platform Slack and several integrated development environments, giving developers the freedom to use applications of their choosing. Tandem received support from The Entrepreneurship Hatchery as part of its 2015 cohort, and Samantray is pursuing it full-time as as part of The Next 36.
Samantray credits his experience in U of T Engineering with teaching him balance and persistence — key preparation for entrepreneurship. "The first year of university was the hardest, but over the years my grades got better and I was able to figure out how to handle life and school at the same time," he says. "It taught me how to avoid getting demoralized and give up, which is a key quality of entrepreneurship, as well."