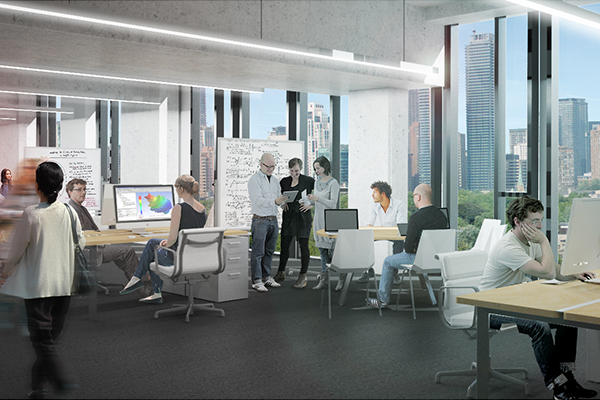 November 2, 2017 – Engineers are the makers, innovators and entrepreneurs behind so many of the world's newest technologies, such as smartphones, self-driving cars and virtual voice-activated assistants. The engineering educational environment is quickly evolving to mirror the fast pace and collaborative nature of the profession.
The Centre for Engineering Innovation & Entrepreneurship (CEIE) is leading the way. When it opens next spring, U of T Engineering's newest building will set a new standard for engineering education and research, incorporating experiential learning into every element of the building's design.
The CEIE expands on the Faculty's rich suite of programs that provide meaningful opportunities for students to apply their technical abilities in context. For example, U of T Engineering students and researchers have launched a startup to turn food waste into bioplastics, designed a solar car to race across the Australian outback, and developed new ways to conserve water and clean up contaminated sites.
"We are educating the next generation of engineering innovators and leaders," said Cristina Amon, dean of the Faculty of Applied Science & Engineering. "The CEIE is our bold commitment to engineering innovation, enabling the opportunities for experiential learning, student entrepreneurship and multidisciplinary research that distinguish us as Canada's #1-ranked engineering school and among the world's best."
The CEIE is designed to enhance the student experience and enable collaboration between students, faculty, alumni and industry partners. It contains versatile design studios and meeting rooms, as well as a two-storey robotics lab big enough to allow for drone flight and testing. Its unique features reflect the U of T Engineering spirit of creativity, inclusivity and leadership.
In 2016 the Ontario government announced an investment of $15 million in the CEIE, a recognition of the building's place at the heart of the province's innovation supercorridor and its critical role in advancing Canada's knowledge economy. This economy will be driven by tomorrow's engineering leaders.
Here are five spaces in the CEIE that will enrich experiential learning and entrepreneurship opportunities for the next generations.
Technology-enabled auditorium
The centrepiece of the main level, this 500-seat auditorium is designed to facilitate discussion, collaborative learning and direct communication between instructors and peers. The auditorium will be the only lecture hall of its kind in North America — its stage will be large enough to accommodate vehicles, structures and active demonstrations.
"When interactions are facilitated by a unique space like this, custom-designed for our increasingly diverse learning population, students participate in active learning more naturally — this optimizes knowledge transfer tremendously," said Professor Chirag Variawa (IndE PhD 1T4), Director, First-year Curriculum. "This will further accelerate innovations in the curriculum as we tailor our courses to take advantage of the greater affordance of the space."
Dedicated student club space
U of T Engineering student clubs and design teams are some of the best in the world — including the Supermileage Team that designs, fabricates and races hyper-fuel-efficient prototype vehicles; the University of Toronto Aerospace Team (UTAT) that builds and flies aircraft, satellites and rockets; and the Human-Powered Vehicle Design team that won the 2017 World Human Powered Speed Challenge. The CEIE's lower level will be home to many teams and clubs. With flexible meet/work spaces, immediate access to fabrication facilities as well as a place to host events, this space will be a game-changer for student groups.
"Our team is internationally competitive — every year we strive to be the best," said Katie Gwozdecky (Year 4 MIE), UTAT's Director of Space Systems. "That demands constant optimization of our aircraft, rockets and space-bound satellite. The club space in the CEIE and proximity to project studios and fabrication equipment will give our 120 members more space to experiment, test and iterate — and that's how we'll keep getting stronger." 
Multidisciplinary design and TEAL rooms
The CEIE includes eight design studios that will support engineering design across the curriculum, from first-year courses such as Engineering Strategies and Practice and Praxis, through to fourth-year capstone projects, including the Multidisciplinary Capstone Projectfacilitated by the Institute for Multidisciplinary Design & Innovation (IMDI).
On the third floor, these design rooms are integrated with Technology Enhanced Active Learning (TEAL) rooms, which support blended modalities of teaching and creative design activities. TEAL rooms also enable instructors to deliver their materials in innovative ways, interacting more directly with students, moving throughout the room during the class or lab and fostering group learning.
"Engineering design is about balancing competing goals — between analysis and synthesis; thinking and doing; and conceiving and communicating," said Professor Jason Foster (EngSci), instructor of the Praxis first-year design courses. "The TEAL rooms and Design Studios provide a rich environment for us, as professors, and for our students to explore new and innovative ways to balance these goals. Together we are designing new ways to teach and learn engineering in this innovative educational environment."
The Entrepreneurship Hatchery
Aspiring entrepreneurs will congregate on the CEIE's sixth floor, where The Entrepreneurship Hatchery will be located adjacent to project and meeting rooms. Championed by some of Canada's foremost innovators and business leaders, the Hatchery is a true startup that creates startups and a vital part of a thriving entrepreneurial ecosystem at the University of Toronto, one of the top universities in North America for launching research-based startups.
"The entrepreneurial spirit is taking hold in U of T Engineering," said Joseph Orozco, co-founder and executive director of the Hatchery. "The CEIE will truly propel participants' startups to the next level, allowing them to drive their bold ideas from concept to prototype and beyond. This unique space will encourage collaboration, teamwork, and enable the next generation and those that follow to gain guidance and feedback from established entrepreneurs and prospective investors."
Space for alumni to mentor the next generation
The CEIE will be the heart of student experience as they journey through U of T Engineering — and it will remain their centre after graduation. Alumni will find their "home on campus" in the building, with meeting rooms and offices for their use situated next to The Entrepreneurship Hatchery.
"U of T Engineering alumni are leaders in a diverse range of fields, from mining and finance to technology and medicine," said Sonia De Buglio (ChemE 9T4, MASc 9T8), director of alumni relations. "This global network is tremendously passionate about giving back to the engineering students who are following in their footsteps. Regardless of where in the world they live and work, our alumni will always have a Toronto headquarters here in the new CEIE."