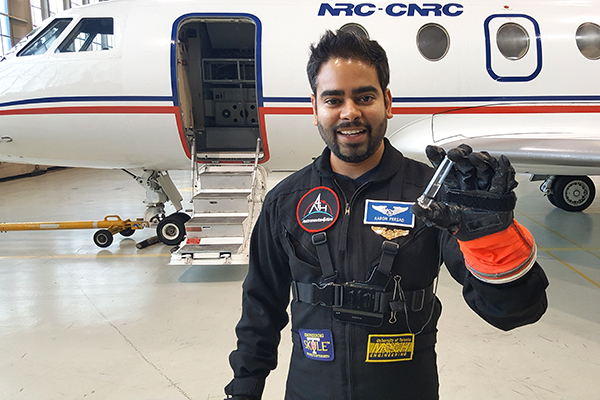 February 7, 2016 – Aaron Persad (EngSci 0T6, MechE PhD 1T4) is one of five U of T Engineering alumni named to the Canadian Space Agency's shortlist of candidates to become Canada's next astronaut.
"I felt excited, honored and a bit surprised, since I knew I was competing with very highly qualified colleagues," said Persad. "While space is big, the space community is small and I am delighted to see that several colleagues are also in the CSA list."
A postdoctoral fellow currently working in the lab of Professor David Sinton (MIE), Persad is one of 70 people from across Canada under consideration for two upcoming astronaut roles with the Canadian Space Agency (CSA).
Other U of T Engineering alumni on the list include:
Persad's dream of going to space began at the age of seven, and his pursuit of it accelerated at U of T Engineering. During his undergraduate studies, he completed his Professional Experience Year internship at the CSA, including a flight in a Falcon-20 jet where he got experience the sensation of free-fall for the first time.
"It felt fantastic. I remember my legs had the tendency to float up toward my chest; I had to consciously keep them down," said Persad.
Persad's PhD research, supervised by Professor Emeritus Charles Ward (MIE), focused on solving a decades-old mystery about the behaviour of water in microgravity, specifically the shape it takes within a closed container. The seemingly simple question has important implications for life support systems in space.
Read more about Persad's experiment on the behavior of water in microgravity
The project suffered a major setback when a SpaceX rocket meant to carry his experimental apparatus into orbit exploded in the summer of 2015. Undeterred, Persad created a new apparatus in time for the next launch in the summer of 2016. Last week, NASA astronaut Robert S. Kimbrough performed the experiment aboard the International Space Station. Persad is standing by for the data downlink which will include videos and high-resolution images of the microgravity experiment.
The above video, taken in November 2016, shows Persad bringing his experimental apparatus aboard a Falcon-20 jet to test it in free-fall conditions. Persad plans to compare the behavior of water in jars from this experiment to those from jars now aboard the International Space Station. (Credit: Aaron Persad)
Outside of his research, Persad has been recognized for his teaching excellence and has led a number of educational initiatives, including a company that delivers robotics technology education to young children.
This is Persad's second attempt to become an astronaut, having applied during CSA's previous round of recruitment in 2008, when he was a master's student at U of T Engineering. Since then, Persad has greatly enhanced his technical expertise and aggressively pursued astronautics training through the non-profit organizations Astronauts4Hire and Project PoSSUM.
"I used my previous evaluation as a checklist to prepare for a future call. For example, I was asked questions like 'Do you have piloting experience?' or 'Have you ever taught a post-graduate engineering course?'" said Persad. "For the last eight years, I've been working hard to turn every 'no' into a 'yes'."
A final decision from the current round is expected by June 2017. "I know my family and friends are cheering me on," said Persad.