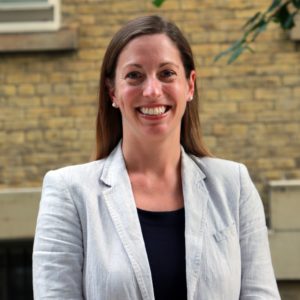 PhD, P.Eng.
Associate Professor, Mechanical Engineering
Email: touchie@mie.utoronto.ca
Tel: 416-978-5919
Office: GB314B
Research Group: Building Energy and Indoor Environment (BEIE) Lab
---
Research Areas
Thermofluids
Human Factors
Research Interests
Building science; building energy use; indoor environmental quality; thermal comfort; energy modeling; building environmental monitoring; building retrofits; occupant behavior; heat pump technology; low-energy buildings.
Bio
Marianne Touchie is an Associate Professor jointly appointed in the Departments of Civil & Mineral Engineering and Mechanical & Industrial Engineering at the University of Toronto and Director of the Building Energy and Indoor Environment Lab. She completed her BASc (2009) and PhD (2014) in the Department of Civil Engineering at the University of Toronto. Upon completion of her PhD, she was the Building Research Manager at The Atmospheric Fund and a Postdoctoral Fellow at the University of Toronto.
Dr. Touchie's research focuses on reducing the environmental impact of buildings while improving the occupant experience. She has developed novel building performance assessment methods and integrated retrofit approaches that consider both energy efficiency and the quality of the indoor environment. Dr. Touchie is one of Canada's leading authorities on multi-unit residential building performance, particularly in the social housing sector. Her interdisciplinary research program explores the interactions between occupant behaviour, the building enclosure and mechanical systems and how these three factors can be engineered to improve energy performance, indoor environmental quality and occupant comfort, health and wellbeing.
Dr. Touchie is one of Canada's inaugural Clean 50 and has received numerous awards for teaching and research including the ASHRAE New Investigator Award, UofT's Connaught New Researcher Award, Dean's Spark Professorship in the Faculty of Applied Science and Engineering (2018-2021), and the McCharles Prize for early career research distinction. She is also the co-founder and former President of the Building Science Specialist Board (BSSB) of Canada. She currently serves as a BSSB board member and as a voting member on ASHRAE Technical Committee 4.3 on Ventilation and Infiltration.