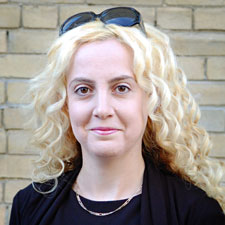 PhD, P.Eng.
Professor, Mechanical Engineering
Associate Chair, Research
Canada Research Chair in Robots for Society
Email: nejat@mie.utoronto.ca
Tel: 416-946-5033
Research Group: Autonomous Systems and Biomechatronics (ASBLab)
---
Research Area
Robotics
Research Interests
Autonomous Systems; robotics and mechatronics; assistive devices; service robots/vehicles; robot-assisted emergency response; sensor agents; socially assistive robots; human-robot interaction.
Bio
Goldie Nejat, PhD, P.Eng. is a Professor in the Department of Mechanical & Industrial Engineering at the University of Toronto, and the Founder and Director of the Autonomous Systems and Biomechatronics (ASBLab) Laboratory. Dr. Nejat is also an Adjunct Scientist at the Toronto Rehabilitation Institute. She received both her BASc and PhD degrees in Mechanical Engineering at the University of Toronto.
Dr. Nejat is a world renowned expert in developing intelligent service/personal robots for applications in health, elderly care, emergency response, search and rescue, security and surveillance, and manufacturing. A major goal of her research is to develop and integrate intelligent socially assistive robots for assistive human-robot interactions (HRI) in healthcare facilities, private homes and for high stress and dangerous jobs. Dr. Nejat's research is leading the development of intelligent assistive robotic aids that can meet the challenges posed by an aging population. She collaborates with international researchers, healthcare experts and healthcare facilities to develop robots and devices that can be effectively transferred and integrated into people's everyday lives. Dr. Nejat is helping to change the face of robotics and her work is at the forefront of robotics research. Her research is constantly pushing the envelope of the capabilities of current robots.
In 2008, Dr. Nejat received an NSERC University Faculty Award. She also received the 2012 Professional Engineers of Ontario Young Engineer Medal and the 2013 Engineers Canada Young Engineer Achievement Award, both awards are for her exceptional achievements in the field of robotics at a young age.