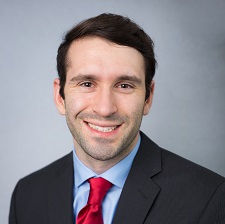 PhD, P.Eng.
Assistant Professor, Mechanical Engineering
Email: kevin.golovin@utoronto.ca
Tel: 416-978-0707
Office: MC306C
Research Group: The Durable Repellent Engineered Advanced Materials (DREAM) Laboratory
---
Research Areas
Materials
Thermofluids
Research Interests
Coatings; surfaces; interfacial mechanics; textiles; polymers; sustainability; adhesion; wettability; drag reduction; metamaterials; anti-fouling
Bio
Kevin Golovin is an Assistant Professor in Mechanical & Industrial Engineering at the University of Toronto. Golovin holds degrees in Material Science & Engineering from Cornell University (B.S.) and the University of Michigan (Ph.D.). He currently leads the Comfort Optimized Materials For Operational Resilience, Thermal-transport, and Survivability (COMFORTS) Micro-net, a large-scale, interdisciplinary network sponsored by DND, investigating improved soldier protection and comfort. Other DND-funded projects include the development of advanced soldier uniforms, anti-icing coatings, sensor-embedded coatings, and anti-bacterial fabrics. Golovin additionally collaborates extensively with industry, with partners including Boeing, Arc'teryx, lululemon, FPInnovations, Loop Recycled Products, and PRE Labs.
Golovin has received numerous awards and accolades, including the 2018 ProQuest Distinguished Dissertation Award and the 2016 Patagonia Eco Innovation Case Competition Grand Prize. In 2020 he was named an Emerging Leader in Chemical Engineering by the Canadian Society for Chemical Engineering (CSChE). Golovin has filed 9 patents, one of which is currently licensed.