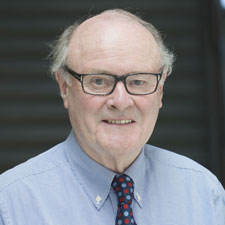 PhD, P.Eng., C.Eng., FIISE., FCAE, FEIC, FISEAM (Hon)
Professor Emeritus, Industrial Engineering
Email: jardine@mie.utoronto.ca
Tel: 416-978-2921
Office: BA8132
---
Research Area
Operations Research
Research Interests
Manufacturing; operations research; Centre for Maintenance Optimization and Reliability Engineering (C-MORE), industry-guided real-world research for optimal asset management.
Bio
Dr. Andrew K.S. Jardine was Founding Director of the Centre for Maintenance Optimization & Reliability Engineering (C-MORE). He is author of economic life software AGE/CON and PERDEC, licensed to organizations in the transportation, mining, electrical utilities, and process industries, and author of OREST software used for optimizing component preventive replacement decisions and forecasting demand for spare parts. In addition to writing software, C-MORE has developed and commercialised two software packages: EXAKT for the optimization of condition based maintenance decisions and SMS for optimization of stock holding policies for slow-moving expensive capital spares
Dr. Jardine is a prolific researcher and advocate of advances in maintenance decision-making and reliability engineering. His views are sought after by industry, he has published numerous books and papers, and he presents his work at professional seminars and conferences worldwide. His first maintenance-related book, Maintenance, Replacement and Reliability (1973) is in its 6th printing. He is co-editor with J.D. Campbell of Maintenance Excellence: Optimizing Equipment Life Cycle Decisions (2001); the second edition was published in 2010 as Asset Management Excellence: Optimizing Equipment Life-Cycle Decisions. The second edition of the bestselling Maintenance, Replacement & Reliability: Theory and Applications (2006), co-authored with Dr. A.H.C. Tsang, appeared in 2013.
In 1998, Professor Emeritus Jardine was the first recipient of the Sergio Guy Memorial Award from the Plant Engineering and Maintenance Association of Canada in recognition of his outstanding contribution to the maintenance profession and was elected a Fellow of both the Institute of Industrial Engineers and the Canadian Academy of Engineering in 2013. In 2013 he also received the Lifetime Achievement award from the International Society for Engineering Asset Management. In 2014 he was admitted to the status of Honorary Fellow of the International Society of Engineering Asset Management.