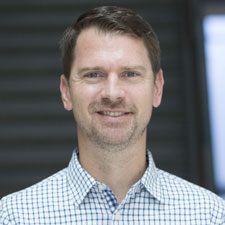 PhD, P.Eng.
Interim Chair & Professor, Industrial Engineering
Interim Department Chair
Clarice Chalmers Chair of Engineering Design
Email: jamieson@mie.utoronto.ca
Tel: 416-978-7198
Office: MC136
Research Group: Cognitive Engineering Laboratory (CEL)
---
Research Area
Human Factors
Research Interests
Human interaction with automation; analysis of work in complex systems; design of interfaces; cognitive engineering applications in process control; energy systems; other emerging areas.
Bio
Greg A. Jamieson is a Professor and Clarice Chalmers Chair of Engineering Design in the Department of Mechanical & Industrial Engineering at the University of Toronto. He received Bachelor of Science degrees in Mechanical Engineering and Psychology (with Distinction) from the University of Illinois at Urbana-Champaign, and the Masters of Applied Science and Doctor of Philosophy degrees in Human Factors Engineering from the University of Toronto. He directs the Cognitive Engineering Laboratory, which conducts applied human factors engineering research in the natural resource and energy industries.