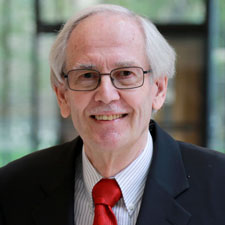 PhD, P.Eng
Professor Emeritus, Mechanical Engineering
Email: david.james@utoronto.ca
Tel: 416-978-3049
Office: MC307
---
Research Area
Thermofluids
Research Interests
Fluid mechanics; flow of non-Newtonian fluids; experimental and theoretical rheology; liquid elasticity; structure of complex fluids, from molecular to microscopic; friction reduction with polymer additives; microfluidics; biomechanics; physiological lubrication.
Bio
David F. James is currently Professor Emeritus of Mechanical & Industrial Engineering, having joined the Department in 1967 after his PhD from the California Institute of Technology. He is still active in research and teaching. His research is related to fluid mechanics, especially the flow of complex liquids such as suspensions, solutions and pastes. His research interests include rheology, elastic liquids, non-Newtonian fluid mechanics, and his speciality is the fluid mechanics of polymeric liquids.
Professor James has received several teaching awards from the Department, and in 1984 he received the first Teaching Award given by the Faculty of Applied Science & Engineering. He continues to be involved in teaching, as a Teaching Mentor for the Faculty, typically advising his junior colleagues.
Professor James' research has been recognized through the 2011 Annual Award from the British Society of Rheology and the S.G. Mason Award from the Canadian Society of Rheology (2005), as well as through prestigious appointments at other universities, including the Chevron Visiting Professor at Caltech, the University Visiting Professor at Monash University, the Commonwealth Fellowship at St. John's College and a Visiting Fellowship at Trinity College, both at the University of Cambridge.
His primary administrative service has been the Chair of the Division of Engineering Science at the University of Toronto (1991-95) and as the Secretary of the International Committee of Rheology (1988-2004).
Video: Professor James achieved fame for his "tubeless siphon," liquid that can flow uphill, which he discovered while a graduate student at the California Institute of Technology. He demonstrated his discovery in the 1967 quiz program, "I've Got A Secret."