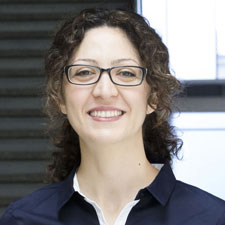 PhD, P.Eng.
Assistant Professor, Mechanical Engineering
Email: azhari@mie.utoronto.ca
Tel: 416-978-2534
Office: MC228
Research group: Decisionics Lab
---
Research Areas
Mechanics & Design
Operations Research
Research Interests
Structural health monitoring, sensor development, intelligent structures and systems, computer simulations coupled with field and laboratory testing, and decision analytics.
Bio
Fae Azhari is an Assistant Professor in the Departments of Mechanical & Industrial Engineering and Civil & Mineral Engineering at the University of Toronto. She also held a Dean's Spark Professorship in the Faculty of Applied Science and Engineering (2018-2021). She completed her PhD in Structural Engineering and Mechanics at UC Davis and holds two master's degrees, one in Industrial Engineering and Operations Research from UC Berkeley and the other in Civil Engineering from UBC. She is a registered Professional Engineer with five years of industry experience. Fae's research focuses on structural health monitoring (SHM) and prognosis of engineering systems. Her main areas of research are (I) sensor development and assessing the performance of novel sensing devices, and (II) developing decision-making frameworks that use probabilistic models to translate collected data into meaningful information and efficient remedial strategies for various engineering systems.