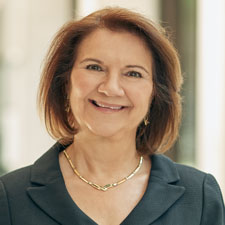 OC, ScD, P.Eng., FAAAS, FASEE, FASME, FCAE, FCSME, FEIC, FIEEE, FRSC, NAE, NAE
Professor, Mechanical Engineering
Alumni Distinguished Professor in Bioengineering
Dean Emerita, Faculty of Applied Science and Engineering (2006-2019)
Email: cristina.amon@utoronto.ca
Tel: 416-978-2272
Office: BA 8102
Research group: Advanced Thermal/fluid Optimization, Modelling and Simulation (ATOMS) Lab
---
Research Area
Thermofluids
Research Interests
Nanoscale thermal transport; thermofluids; clean energy systems; electric vehicle and battery thermal management; regenerative medicine, hemodynamics and transport in biomedical systems.
Bio
Cristina Amon is an Order of Canada recipient, University Professor, Alumni Distinguished Professor and Dean Emerita at the University of Toronto's Faculty of Applied Science and Engineering. Under her leadership, Canada's #1 ranked engineering school has become a global hub for inter-disciplinary research and education known for its strategic Faculty-wide initiatives, cross-Faculty centres and institutes, and innovative undergraduate and graduate programming.
Prior to joining U of T in 2006, she was the Raymond J. Lane Distinguished Professor and Director of the Institute for Complex Engineered at Carnegie Mellon University. She has pioneered the field of Computational Fluid Dynamics and the development of multidisciplinary multi-scale hierarchical modelling, concurrent design and optimization methodologies for thermo-fluid transport phenomena, with applications to thermal management of electronics and electric vehicles, renewable energy and biomedical devices.
Professor Amon was appointed to the Order of Canada and inducted into the Canadian Academy of Engineering, Hispanic Engineer Hall of Fame, Royal Society of Canada, Spanish Royal Academy and US National Academy of Engineering. She is a fellow of all major professional societies in her field and has contributed over 400 refereed articles to the education and research literature.
Among her many accolades, she received the ASEE Westinghouse Medal, ASEE Ralph Coats Roe Award, ASME Heat Transfer Memorial Award, ASME InterPACK Achievement Award, EIC Sir John Kennedy Medal, and CSME Robert W. Angus Medal. She was recognized as one of Canada's Most Influential Women in 2012, received the Engineers Canada Award for the Support of Women, was named one of the YWCA's Women of Distinction, and received the highest honor for Engineers in Canada (2020 Engineers Canada Gold Medal) and Ontario (2015 PEO Gold Medal) for outstanding engineering public service, technical excellence and professional leadership.
Cristina Amon is the founding chair of the Global Engineering Deans Council and has served on numerous editorial and technical conference roles, advisory and review boards in North America and abroad. She received her Mechanical Engineering degree from Simon Bolivar University in Venezuela, and her M.S. and Sc.D. from the Massachusetts Institute of Technology.
Photo of Professor Amon by Daniel Ehrenworth