Monday, December 6, 2021
12:00pm-1:00pm
Location: Virtual! Join us on Zoom for this event.
Renewables & Sustainability: A Transformative Era in Energy Research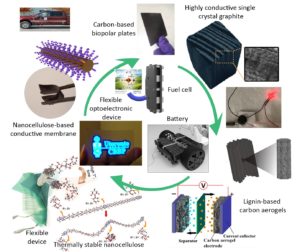 Abstract: As we move towards a carbon neutral world, a new material and chemical industry is emerging through the field of energy transformation. Depleting non-renewable resources prompted a global urge to discover more sustainable and carbon neutral materials. To this end, we have started to explore using recycled CO2 and renewables from the forest floor and agricultural residue which is normally considered a by-product of industrial production.
This presentation will provide an overview of this low carbon science and the engineering of carbon neutral and carbon negative resources materials. The presentation will focus on recycled CO2, forest biomass/industrial waste and how they can be used for the creation of high-density renewable fuels, chemicals and materials, including carbon nanotubes and graphene, through facile and low-cost fabrication.
Several case studies will be presented ranging from liquid energy and energy devices to medical equipment for many applications including biodegradable medical diagnostics. We will also look at how this technology can be used for energy devices, sensors, electro-chemical and electro-thermal ion carriers and more.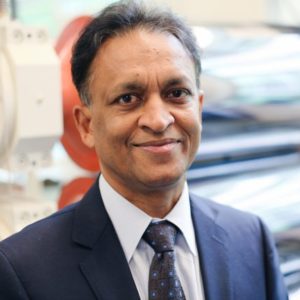 Mohini Sain is a Professor in the Department of Mechanical & Industrial Engineering at the University of Toronto. Over the past 20 years, Professor Sain's reputation for research excellence in the global auto sector has awarded him an Endowed Ford Motor Canada Chair in Sustainable Materials. Renowned for his pioneering work on the Biocar Initiative in 2009, his work has been featured prominently in popular media, including a feature by Toronto Life magazine ranking his contributions as the second most impactful of 25 World Changing Ideas from the Smartest Torontonians. With an extensive patent portfolio, he is world-renowned for his expertise in transforming research ideas into commercialization. He has several start-up companies founded on technologies developed from his work at U of T. Examples include Greencore Composites Inc., Natures Affinity Inc. and GreenNano Technologies Inc. To date he has made more than 50 technology transfers to industries and has help foster new innovations in product designs including improvements to biomedical devices, packaging solutions, flexible electronics, and building and transportation materials. Additionally, he has developed and patented new technologies in collaboration with multiple top tier industry partners such as Ford Motor, Hutchinson Canada and TOTAL North America.
Recently, as part of the global COVID-19 Emergency response, he has applied his research to several projects, including N95 Mask recycling in partnership with Ford Motor, Airbus and APMA, medical enclosures in collaboration with UHN (Toronto General), as well as 3D printed PPE using renewables developed in his own lab.
Registration
Registrations are closed for this event.