Wednesday, February 3, 2021
12:00pm-1:00pm
Location:  Virtual – Join us on Zoom for this virtual Research Spotlight
Registration is now closed. If you didn't get a chance to register ahead of time, please contact lynsey.mellon@utoronto.ca for the Zoom information.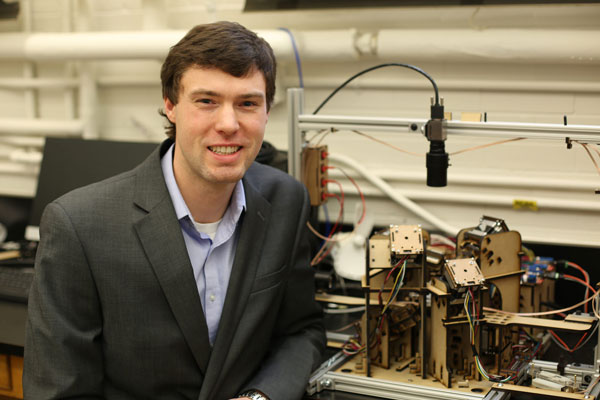 Micro-scale mobile robots can physically access small spaces in a versatile and non-invasive manner. Such microrobots under several mm in size have potential unique applications for surgery, sensing and drug delivery in healthcare, microfactories and as scientific tools. These devices are powered and controlled remotely using externally-applied magnetic fields for motion in 3D. This talk will introduce how we design and produce these tiny machines, as well as how we create magnetic fields that can move them as functional robots inside the body. Moving microrobots for swimming, crawling and grasping powered by these magnetic fields will be shown, along with our progress towards medical applications in neurosurgery and diagnosis in the gut.
Eric Diller received the B.S. and M.S. degree in mechanical engineering from Case Western Reserve University in 2010 and the Ph.D. degree in mechanical engineering from Carnegie Mellon University in 2013. He is currently Associate Professor and Dean's Catalyst Professor in the Department of Mechanical and Industrial Engineering at the University of Toronto, where he is director of the Microrobotics Laboratory. His research interests include micro-scale robotics, and features fabrication and control relating to remote actuation of micro-scale devices using magnetic fields, micro-scale robotic manipulation, and smart materials. He is an Associate Editor of the Journal of Micro-Bio Robotics and received the award for Best Associate Editor at the 2015 IEEE International Conference on Automation and Robotics, as well as the IEEE Robotics & Automation Society 2020 Early Career Award. He has also received the 2018 Ontario Early Researcher Award, the University of Toronto 2017 Connaught New Researcher Award, and the Canadian Society of Mechanical Engineering's 2018 I.W. Smith Award for research contributions in medical microrobotics. He envisions an accessible future of medicine free of invasive colonoscopies, open surgery and long recoveries.
Lab website: http://microrobotics.mie.utoronto.ca/
This event is free and everyone is welcome to attend. If you are not a member of the U of T community, please use 'N/A' to complete the fields that do not apply to you in the registration form.
Registration
Registrations are closed for this event.