Friday, April 1, 2022
2:00pm-3:00pm
*ONLINE* 
April 1, 2022
Interested members of the U of T community who would like to attend the online seminars can email Kendra Hunter at hunter@mie.utoronto.ca for the Zoom link.
Professor Ashok Goel – Georgia Institute of Technology (Intelligence Laboratory, School of Interactive Computing)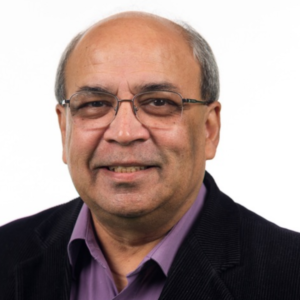 Biologically Inspired Design: Information-Processing Models and Computational Methods 
Abstract
Biologically inspired design is a promising paradigm for creative design as well as sustainable design. Nevertheless, transforming the paradigm into a repeatable and scalable design methodology remains a challenge. I will describe the main results of fifteen years of research on biologically inspired from cognitive and computational perspectives. The products of this research include both information-processing models and computational methods for design thinking, systems thinking, and analogical thinking in biologically inspired design.
Biography
Ashok Goel is a Professor of Human-Centered Computing in the School of Interactive Computing at Georgia Institute of Technology. He conducts research into AI and cognitive science with a focus on computational design and especially biologically inspired design. From 2008 to 2018, he was a Co-Director of Georgia Tech's Center for Biologically Inspired Design, and from 2012 to 2017, he served on the Board of Directors of The Biomimicry Institute. Ashok is a Fellow of AAAI and the Cognitive Science Society.
---
MIE's Distinguished Seminar Series features top international researchers and leading experts across major areas of Mechanical Engineering and Industrial Engineering. The speakers present about their latest research and offer their perspectives on the current state of their field. The seminars are part of the program requirements for MIE Master of Applied Science and PhD students. The Distinguished Seminar Series is coordinated for 2021-2022 by Assistant Professor Merve Bodur.
View all upcoming MIE Distinguished Seminars.