Wednesday, September 22, 2021
12:00pm-1:00pm
Registration for this event is now closed. If you missed registering and would like to attend please email Lynsey Mellon at lynsey.mellon@utoronto.ca for the information to join.
Location: Virtual – join us on Zoom!
Making Aging Fun: How Exergaming Can Support Healthy Aging
Abstract:
For the past six years the Interactive Media Lab in the Department of Mechanical and Industrial Engineering has been working on exergaming solutions to support healthy aging. Two of our major outputs have been BrainTagger, a suite of cognitive assessment games that is being used by a number of psychologists in their research, and 2RaceWithMe, an exergame that provides arm and leg exercise motivated by scenic video content and social interactions via videoconferencing. 2RaceWithMe is currently being used at York Care Centre in Fredericton, Yee Hong Geriatric Health Centre in Toronto and Edgewater Gardens in Danville Ontario. It is in the process of being installed at Humber River Hospital's Church Reactivation Centre, North York General Hospital's Senior Health Centre and at Shannex Faubourg du Mascaret in Moncton. These products are being commercialized through the University of Toronto Centivizer Inc. spinoff. Our work combines accessible design for older people with the use of gamification methods to motivate people to carry out tasks such as physical exercise and cognitive assessment. Join Professor Chignell on September 22 to learn more about how this technology is being applied and the potential outcomes for our aging community.
Speaker: Mark Chignell, Professor, Industrial Engineering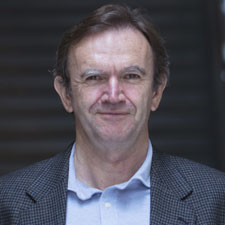 Mark Chignell has been a member of the Mechanical & Industrial Engineering faculty since 1990. Prior to that he was an Assistant Professor in Industrial and Systems Engineering at the University of Southern California from 1984 to 1990. Professor Chignell taught in the Psychology Department at Monash University in Melbourne, Australia from 1980 to 1982. He has a PhD in Psychology (University of Canterbury, New Zealand, 1981), and an MS in Industrial and Systems Engineering (Ohio State, 1984). He was formerly (2013-2017) the Director of the Knowledge Media Design Institute at the University of Toronto, and the BUL Chair in Human Computer Interaction. He has been a visiting scientist at the IBM Centre for Advanced Studies in Toronto since 2002 and he was a visiting scientist at Keio University from 2005 to 2010.
Professor Chignell has co-authored books on expert systems and intelligent databases (published by John Wiley & Sons) and he has co-edited three books. He has many journal and conference papers on topics such as hypertext and information retrieval, user interface design and healthcare applications. His research has been funded by the Bell University Laboratories, the National Sciences and Engineering Research Council (NSERC), IBM, the Ontario Centres of Excellence (OCE), the Japan Society for the Promotion of Science, TELUS, Oki Corporation, Ricoh Corporation, and Apple Computer. He has founded two start-up companies, both of which received funding. His latest startup is Centivizer Inc. which is a University of Toronto startup that has been funded by the AGEWELL National Centre of Excellence. Centivizer creates exergaming and cognitive assessment products to support healthy aging.
Registration
Registrations are closed for this event.