Tuesday, June 27, 2023
12:00pm-6:30pm

Hart House, Great Hall
7 Hart House Cir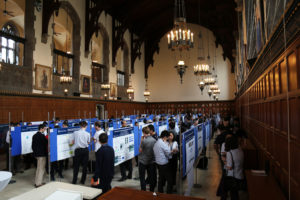 Join MIE in celebrating our graduate students, as they share their innovative research through poster and oral presentations. There will also be an opportunity to meet with representatives from Intellijoint Surgical and Starfish Medical who will be onsite.
After students present there will be a keynote presentation by Professor Yu Sun, Professor, Mechanical Engineering, MIE. The evening will conclude with awards given for the top presentations during an evening reception. Refreshments will be provided. Alumni, faculty, staff, industry contacts and students are invited to peruse the exhibition of posters highlighting the students' work. Students will be on hand to speak about their research. Select students will also make oral presentations on their work.
Schedule of events 
11:30 AM Registration Opens
12 – 1 PM Lunch – Quad
1 – 4:30 PM Posters by MIE students available to view (Great Hall)
2 – 4:30 PM Oral Presentations by MIE students (East Common Room)
5 – 6:00 PM Keynote Presentation by Professor Yu Sun (CRC in Micro and Nano Engineering Systems, Director, Robotics Institute and 2023 President's Impact Award recipient)
6 – 6:30 PM Evening Reception and Award Ceremony
Oral Presentation Speakers (open to the public)
Peter Serles (Multi-Objective Bayesian Optimized Carbon Nanolattices)
Atsushi Kuno (Learning to represent object properties in robotic manipulation with neural fields)
Mingyi Tang (Towards High Spatiotemporal Resolution Blood Flow Velocity Field Mapping for Mice: A Validation Study)
Benjamin Leung (Modelling Trade-offs in Efficiency, Equity, and Fairness in Public Defibrillator Placement)
Mina Mahdian (Feasibility of surface modified foams for water disinfection)
Behrooz Khatir (Omniphobic polydimethylsiloxane brushes)
Tosin Akintunde (Racial/ethnic disparities in long-term contraception use among the birthing population at an academic hospital in the Southeastern United States)
Sepehr Saber (Pickering Phase Change Slurries: The Interplay of Salinity, Temperature, and Nanoparticle Interactions)
Hongbo Chen (Enhancing Performance and Explainability of Automatic Classification of Patient Safety Event Report)
Maryam Fashandi (Ambient Pressure Dried Silica Aerogel – Melamine Foam Composite with Superhydrophobic, Self-Cleaning and Water Remediation Properties)
Cheng Chi (Deep Reinforcement Learning for Column Generation)
Chengqian Wu (Leveraging the anodic potential for commodity chemical synthesis: Electrochemical oxidation of ethylene to ethylene glycol using palladium and silver-based catalysts under high current densities)
Jeffrey Galbraith (Experimental Analysis of Partially Premixed Combustion in a Direct Injected Natural Gas Internal Combustion Engine)
Fatemeh Arabyarmohammadi (Enhancing CO2 electrolysis via advanced voltage diagnostics)
Registration
This event is fully booked.