Friday, January 13, 2017
2:00pm-3:00pm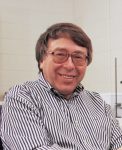 Speaker: Roman Maev
Affiliation: University of Windsor
Location: MC102
Date and time: January 13, 2017, 2-3 PM
Abstract
The role of nondestructive materials characterization, evaluation and testing (NDT) is changing and will continue to change dramatically. It has become increasingly evident that it is both practical and cost effective to expand the role of NDT and quality control especially today, when lightweight vehicle design is of particular importance, because in addition to novel NDT technologies required for new materials evaluation, the manufacturing process requires almost the same for the quality control of joining and bonding technologies. As such, the entire NDT process is continuously being re-evaluated due to technical and economic reasons.
The major part of this presentation will be related to recent developments of high-resolution imaging techniques and its practical uses in various industrial applications. New principles for rapid 2D and 3D image quantitative evaluation of bulk and sub-surface properties and microstructure are based on a new concept of advanced portable systems. Based on the most successful experimental results, examples of different applications will be provided including the evaluation of advanced material microstructure, quality control of joints, adhesive bonding, layer structures, etc.
Such techniques have the potential to provide reliable, rapid and cost effective methods to visualize high contrast small scale failures and defects at different depths within inspected parts and can be adapted to high volume manufacturing, to monitor and control as many stages of the vehicle production process as possible, and to introduce possible issues much earlier in the manufacturing cycle. Simply put, intelligent advanced manufacturing is impossible without integrating modern nondestructive evaluation into the production system.
Speaker biosketch
Dr. Roman Gr. Maev is the founding Director-General of The Institute for Diagnostic Imaging Research – a multi-disciplinary, collaborative research and innovation consortium established with the goal to create a leading S&T centre in imaging research in Southwest Ontario. The Institute was formed in 2008 by the Ministry of Research and Innovation which provided an initial research investment.
In 1995 Dr. Maev was appointed a Full Faculty Professor in the Department of Physics at the University of Windsor in Canada when he moved to Canada in the frame of the Intergovernmental Russian-Canadian Exchange Research Program. In 2002 Dr. Maev became the DaimlerChrysler/NSERC Industrial Research Chair, a title he still holds today. In 2007 was granted the title of University Distinguished Professor.
In 2004, based on an initiative by Chrysler, a new Canadian start-up high-tech company "Tessonics Corporation" was created. Its main mission is the commercialization of research products developed by Dr. Maev's R&D team at the University of Windsor. In 2009 Tessonics received Ontario Premier's Award as a Best Innovative Company. Dr. Maev is providing a leading technical role in this new high-tech enterprise. Today this company is well recognized in the US, Latin and Central America, Japan, UK, Germany, China, South Africa, etc. and is a registered supplier for Chrysler, Ford, BMW, Porsche, FIAT, Toyota, Nisan, Magna, etc.
Dr. Maev's research interests include theoretical fundamentals of physical acoustics, ultrasonic and nonlinear acoustical imaging, nanostructural properties of advanced materials, additive manufacturing, and biomaterials and their analysis, as well as art analysis. He is the author of 6 monographs, editor of 7 books, has published over 440 peer-reviewed items, and holds 29 international patents.
The success of Dr. Maev and his Canadian Research Institute demonstrates the uniqueness of this research and the growing successful relationship between Industry and Academia. These partnerships are important for the future progress of academic and applied fields.
Dr. Roman Maev has won many national and international awards for his innovations, research discoveries and inventions. He is a Fellow of IEEE, the Canadian Association of Physicists, the American Society for Nondestructive Testing, as well as a Fellow of the British Institute of NDT.
Since 2001 Dr. Maev is a member of the Canada-Russia Intergovernmental Economical Commission and both UK-Russia and Canada-Russia Business Councils. In 2008 Dr. Maev was appointed an Honorary Consul of the Russian Federation in Canada (Windsor, Ontario).
Dr. Roman Maev is a member of a Rotary Club of Windsor (1918) since 1997. For his activities in the Club's various programs Dr. Maev in 2009 has been recognized as Rotary International Paul Harris Fellow.