Friday, March 2, 2018
2:00pm-3:00pm

Mechanical Engineering Building, MC102
5 King's College Road
Speaker: Jason Gu
Affiliation: Dalhousie University
Abstract
Robotics is a fast-growing area of research. They are many traditional researches such as perception, motion planning, manipulation, control, cognition, and artificial intelligence which are focused on a specific task or application, also they are some newly developed research areas which seek to develop integrated robotic systems capable of addressing a wide range of applications in real-world environments. In this talk, Dr. Gu will start with the general introduction of robotics, the tasks of robotics and the history of robotics. Then he will summarize his contribution in robotics in various area with potential application in surgical robot, assistive robot, industrial robots, teleoperation and control. He will conclude his talk with the challenges and future directions of the robotics.
Biosketch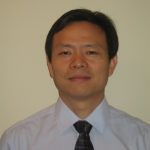 Jason Gu is a professor of Robotics and Assistive Technology in the Department of Electrical and Computer Engineering at Dalhousie University, where he also directs the robotics laboratory for biomedical, rehabilitation and assistive technology.  He received his B.S degree in Electrical Engineering and Information Science at the University of Science and Technology of China in 1992 and his Master's degree from Biomedical Engineering at Shanghai Jiaotong University in 1995 and earned his Ph.D. degree in Rehabilitation Medicine and Electrical and Computer Engineering in 2001 from University of Alberta.
Dr. Gu's research areas include biomedical engineering, bio-signal processing, rehabilitation engineering, neural networks, robotics, mechatronics and control. Dr. Gu has published over 300 Journal, book chapters and conference papers. Dr. Gu is the IEEE member of SMC and has been the editor for Journal of Control and Intelligent Systems, Transactions on CSME, IEEE Transaction on Mechatronics, IEEE SMC Magazine, International Journal of Robotics and Automation and IEEE Access. Dr. Gu was a recipient of best paper award in ICCSE 2003.  He also was awarded Faculty of Engineering Teaching award (2003), the outstanding IEEE Student Branch Councillor award (2004), Discovery Award of the Province of Nova Scotia in Canada (2005) and Faculty of Engineering Research award (2006). He was the recipient of The IEEE Canada Atlantic Section Murugan Memorial Award (2014) and won the best IEEE ICIA 2014 paper award. He received 2015 Canadian Atlantic Section distinguished service award and 2016 IEEE J. J. Eastern CANADA merit service Award. Dr. Gu is a Fellow of Engineering Institute of Canada (FEIC) and a Fellow of Canadian Academy of Engineering (FCAE).