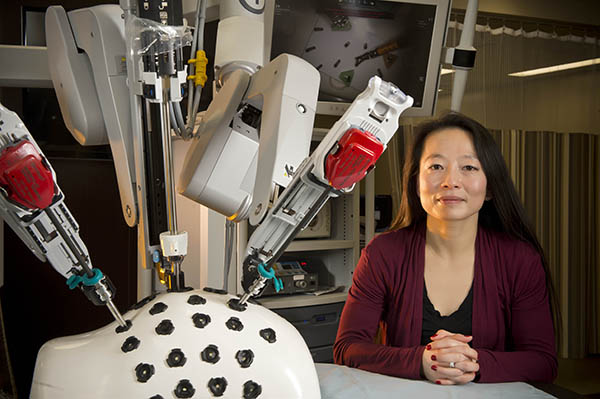 January 4, 2017 – MIE alumna Caroline Cao (IndE PhD 0T2) was recently honoured with a Fulbright US Scholar Fellowship, and hopes to use the grant to introduce the subject of human factors engineering to local academic communities in Vietnam.
The Fulbright program is a flagship international educational exchange program sponsored by the US government, aimed at increasing the mutual understanding between US scholars and scholars from other countries. Participants are chosen for their academic merit and leadership potential.
"It is an honour for me to receive this award. I look forward to the opportunity to expand human factors research to other parts of the world," said Cao, who is a professor at Wright State University and an expert in the field of human factors engineering in medical systems.
---
Which university will you be going to?
From January to June 2017, I will be at the International University of the Vietnam National Universities in Ho Chi Minh City. I will be introducing the subject of Human Factors Engineering to the local academic community by giving several public lectures.
I will also be working with the faculty of the university's Department of Biomedical Engineering – the first Biomedical Engineering Department in Vietnam – to develop a new program in Human Factors in Medical Device Design.
What kind of impact do you hope to make as a Fulbright scholar?
In addition to being a cultural and educational ambassador, I hope to promote, to Vietnamese biomedical engineering students, human factors engineering principles and methods for medical device design, and the importance of their application to maintain safe and effective medical technology, and to foster a safer healthcare system world-wide.
What do you look forward to the most?
I am looking forward to learning about how Vietnam, as a developing nation, is training the new generation of engineers and scientists to meet the challenges of a global economy. Personally, I'm looking forward to re-visiting my birth country after 35+ years of absence.
You received your PhD from MIE. Can you tell me about the graduate experience you had here and whether that experience has helped you in your current academic/research endeavours?
I received my PhD from MIE in 2002. Professor Paul Milgram was my supervisor. My graduate experience at U of T Engineering – working with Professor Milgram, the MIE faculty, my fellow grad students in MIE and beyond  –  was transformative and instrumental in helping me choose a direction in my own professional career.  I try to replicate every aspect of it for the graduate students in my past and current institution, Tufts University and Wright State University, respectively. I have even tried to teach my students the correct spelling of "centre," "metre" and "colour"!