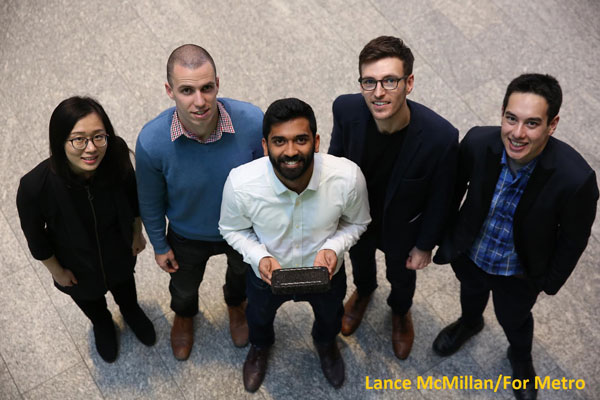 March 2, 2017 – Five U of T students are headed to Shanghai with a single goal: to show that a simple mixture of used coffee grounds, wax and sugar can help restore the dignity of refugees around the world.
Team Moto — named after the Swahili word for fire — is competing on Friday, March 3 in the Shanghai Regionals of the Hult Prize, an annual $1-million competition that aims to create and launch startup enterprises that address challenges faced by billions of people.
This year's competition focuses on restoring the rights and dignity of people and societies forced into motion due to social injustices, politics, economic pressures, climate change and war. For their design, the members of Team Moto sought to overcome a massive daily challenge faced by residents of African refugee camps: gathering firewood.
"A lot of the time, it's women and children that are going to harvest firewood," says Matthew Frehlich (ECE MEng candidate), one of the members of Team Moto. "Because of deforestation, they have to trek up to 15 kilometres to get this firewood. Once they are outside of the camps, they are vulnerable to violence."
Frehlich and his team members — Rotman MBA candidates Sam Bennett, Gowtham Ramachandran (MIE MEng 1T6), Lucas Siow and Lucy Yang — want to eliminate the need for this dangerous trip. Their solution is a fuel log that could be manufactured from low-cost waste materials repurposed from coffee-drinking countries.
"We came across the original recipe for a coffee-based fuel log on Instagram," says Frehlich "It was meant to be a decorative holiday log, but we realized it had potential for our purposes because it used a product that would otherwise be discarded as waste, which makes it inexpensive to produce."
Last fall the team started scavenging coffee grounds from local retailers, baking fuel logs in a loaf pan and testing them in a backyard barbecue. Their product can burn for up to 90 minutes, providing enough heat to cook standard food rations. They have now secured partnerships with local coffee producers to supply raw materials for their pilot project.
In December, Team Moto won the Hult@UofT competition, edging out more than 20 other teams. Since then they've been focused on improving their product and pitch for the regional competition in Shanghai.
"We feel confident knowing that we've done everything we can to prepare ourselves and our business idea for this big next step," says Frehlich. "We've conducted a focus group with former residents of African refugee camps to get feedback on the product, and we've sent a sample to representatives of the United Nations High Commission on Refugees for further field testing in Uganda. We also have a letter of intent with Starbucks Canada to supply us with coffee grounds for our pilot project. We're hopeful that all this will give us the edge we need to win."