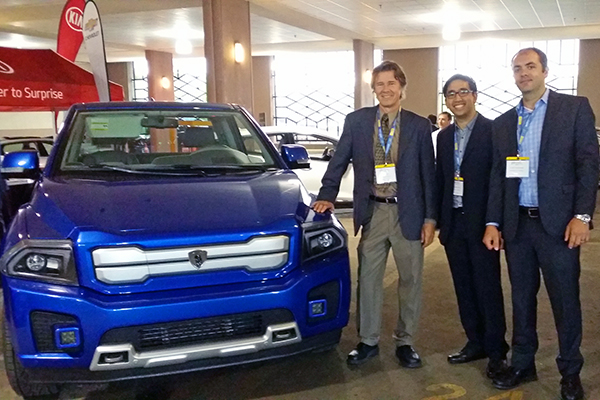 November 14, 2017 – University of Toronto Electric Vehicle Research Centre (UTEV) has secured a major investment to support collaborative research into next-generation electric vehicle (EV) technologies with its founding partner Havelaar Canada.
The Natural Sciences & Engineering Research Council (NSERC)'s Collaborative Research and Development Grants awards and Havelaar Canada's industry contributions total more than $9.1 million over four years for two projects, jointly led by Havelaar and Professors Olivier Trescases and Peter Lehn (both ECE). Trescases and Lehn also received support for their work from the University of Toronto's Major Research Project Management fund.
"EVs hold enormous promise as an established, practical solution to move people sustainably while minimizing the need for new infrastructure," said Trescases, who serves as UTEV's director. "This support will further accelerate our progress toward lower-cost and more efficient vehicles that can integrate into the smart transportation networks of the future."
The two CRD grants will support multidisciplinary projects that target disruptive technologies in both electric vehicles and associated charging infrastructure to make the next generation EVs more accessible, affordable and intelligent. UTEV brings together researchers from across U of T Engineering, including Professors Josh Taylor and Sean Hum (both ECE) and Dean Cristina Amon (MIE). The research scope also includes autonomous vehicles in collaboration with research teams at the University of Toronto Institute for Aerospace Studies.
UTEV was launched in 2016 with five years of major infrastructure and project funding from Havelaar Canada. The partnership takes a holistic approach to corporate-university collaborations, including supporting talented engineering students, addressing global technical challenges and building a commercialization pipeline for academic research outcomes.
"We are really excited about this partnership," said Tony Han, president of Havelaar Canada. "Not only we are creating one of the top centres that can become the face for Canadian EV innovation, we are also building a collaboration platform that will bring global resources together to advance EV technology."
UTEV is currently expanding its  research laboratory with an additional state-of-the-art facility in the Faculty's Engineering Annex building. Expected to open in 2018, the dedicated space will include power test infrastructure for battery management and power electronics prototype development.