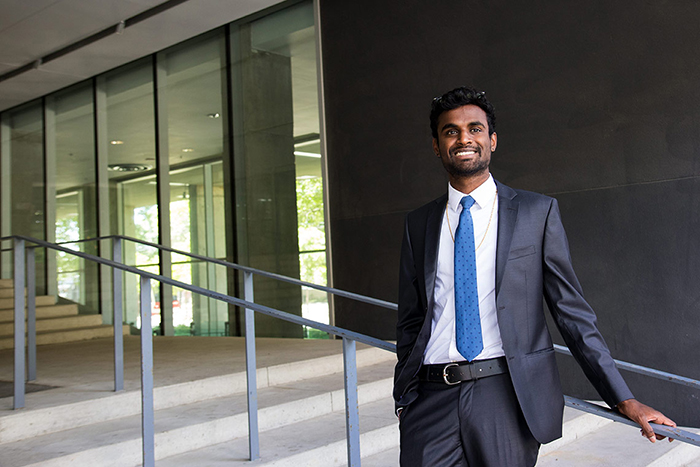 June 22, 2018 – Anston Emmanuel (MechE 1T7+PEY) is about to start a coveted job as an active safety controls development engineer at automotive giant General Motors – a position he secured, strange as it sounds, thanks in part to an unsuccessful effort to launch a biomedical startup at The Entrepreneurship Hatchery.
Though the startup in question – based around a drill attachment to improve knee surgery outcomes – would seem to have little relevance to one of the world's biggest automakers, Emmanuel says the experience gave him a clear edge when first applying for an internship at GM's Canadian Technical Centre in Markham, Ont.
"I was told one of the main reasons I was brought on was because they saw I could take initiative within GM," says Emmanuel, who graduated in U of T Engineering's Convocation ceremonies on Tuesday, June 19.
"They saw that during the interview process – that I was someone who was a self-starter and could bring a sense of entrepreneurship within the company."
Emmanuel's experience is far from unusual. While all entrepreneurs hope to succeed, the reality is the vast majority of startups fail. However, the skills and experience gained by launching a startup – generating innovative ideas, developing new business models, bringing investors and other stakeholders on board – are increasingly in high demand by a wide variety of employers.
At GM, for example, Emmanuel says CEO Mary Barra has made it a priority to transform the 100-year-old automaker into a nimble innovation machine as it competes with not just rival car companies, but Silicon Valley tech giants eager to disrupt a $2 trillion industry with new technologies like self-driving cars.
"I see that culture shift taking place within the company," Emmanuel says. "Innovation is highly valued. We attempt to seek IP [intellectual property] at every opportunity and reward employees for doing so. New ways of thinking are being encouraged."
In fact, there's even a term for what graduates like Emmanuel bring to established companies: "intrapreneurship."
The shifting corporate landscape is among the reasons U of T has significantly boosted its entrepreneurship offerings over the years. The university now boasts nine accelerators across its three campuses that help foster student and research startups at various stages of development and in a wide variety of areas, from artificial intelligence to health care.
There are also some 200 courses and programs available and countless entrepreneurship-related events. They range from Impact Centre's two-week Techno boot camp to a year-long entrepreneurship program run by UTEST that seeks to support startups based on U of T research. At the Rotman School of Management, meanwhile, MBA students are regularly paired with startups at Creative Destruction Lab, giving the entrepreneurs access to management expertise and the MBA students real-world problems to solve.
"[Students] are seeking entrepreneurial experiences as part of their education," U of T President Meric Gertler said in a speech earlier this year. "In fact, they have figured out that starting a firm is the quintessential form of experiential learning.
"The kinds of competencies one develops – from entrepreneurship to problem-solving, teamwork skills, and resilience – are invaluable, whether the startup succeeds or fails."
Emmanuel admits it was tough to pull the plug on his startup, but he says the feedback his team was getting from surgeons suggested a host of complexities that would have taken a significant time commitment to address.
"In the end it was logical choice for us given where we were with our degrees," he says.
As for the skills he picked up along the way, Emmanuel says he's now putting them to good use at GM, with 180,000 employees on five continents, as he works on developing the safety systems needed for the autonomous vehicles of the future.
"There's a lot of initiative that's often required to operate in a large company," he says, "and many of those skills came through my hands-on experience at the Hatchery."
This article originally appeared in U of T Engineering News.