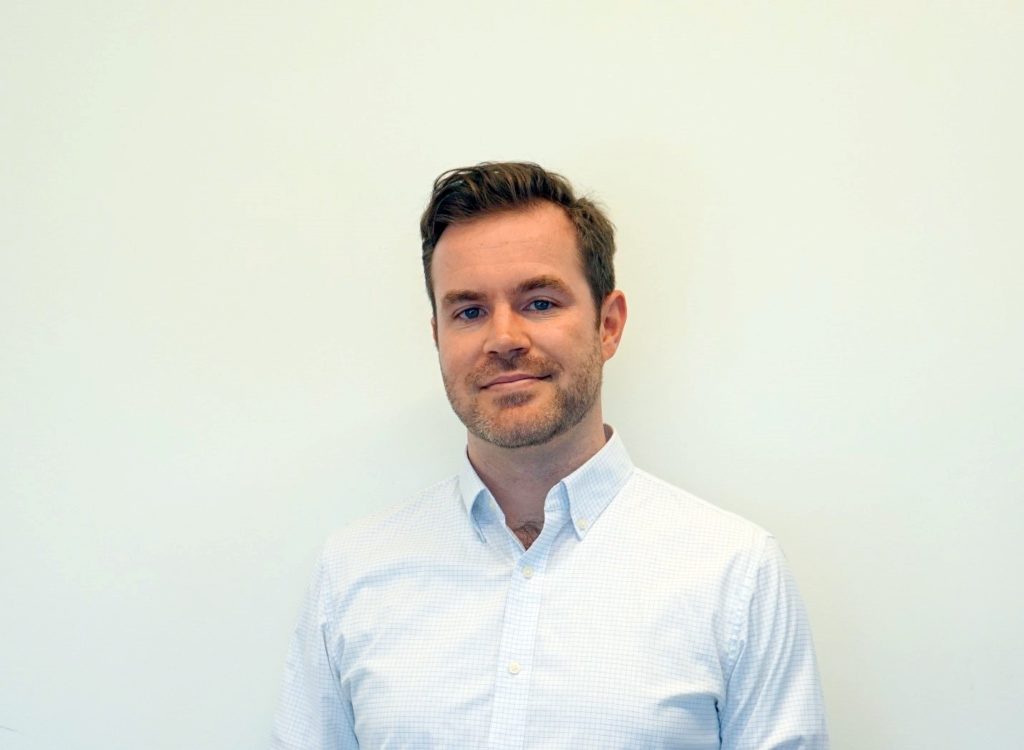 Roger Carrick (MIE, EngSci) joins U of T Engineering as an Assistant Professor, Teaching Stream (Conditional) in Mechanical & Industrial Engineering, cross-appointed in the Division of Engineering Science. He served as the Designer-in-Residence in the Department of Mechanical Engineering at the Lassonde School of Engineering at York University for five years. Roger received the President's University-Wide Teaching Award at York University in 2020.
Writer Lynsey Mellon talked with Carrick to learn more about his approach to teaching engineering and why he thinks design is the core of the discipline.
What attracted you to U of T Engineering?
The engineering programs at the University of Toronto have an outstanding reputation as pioneers in Engineering Education. I have had the opportunity to meet many faculty members at conferences and I was always impressed by the teaching community at U of T, which brings together subject matter experts from engineering, ethics, leadership, teamwork and communication. Additionally, U of T draws students from around the world, leading to a diverse community with unique perspectives.
Which courses are you looking forward to teaching and why?
I'm looking forward to teaching the Praxis courses in the Division of Engineering Science. Cornerstone design courses like Praxis are students' first exposure to engineering practice.  They allow them to explore the design process, examine the relationship between engineers and society, and reflect on their personal perspectives, goals, and motivations as student engineers. My experience with the Praxis courses left me impressed with the teaching team's dedication and the students' competence and drive.
How would you describe your teaching philosophy and what do you hope students will take away from your classes?
My teaching philosophy begins with the belief that design is the core of engineering practice and the conduit through which engineers affect change in the world. Science and technology give us the tools, or how, to affect change, while design explores the question of why or should we?
When students see the world around them as a designed space, they can begin to understand the connections between design decisions and their impact on people and the environment. Giving students authentic experiences through team-based projects allows them to explore the many facets of design and build competencies in teamwork and communication.
What goals do you hope to achieve over the next few years?
I'd like to continue to build upon the success of the Praxis courses.  I want to work to strengthen the connections with other design-related courses to ensure there is continuity and reinforcement of the Praxis concepts throughout the curriculum.  I would also like to explore new ways of evaluating and reporting student learning; a numerical grade gives very little information about the actual learning outcomes from a course, and I think we can expand evaluation criteria beyond that.
Any advice to share with students?
Remember that you are a person first, and a student second.  That means that you need to take care of yourself physically and mentally before you can focus on your studies.  Take a break when you need to or reach out to someone you see struggling.
How do you like to spend your free time?
I'm a maker at heart. Whether it is woodworking, 3D printing, electronics, or home renovation, the satisfaction of creating something with my own hands is one of my greatest joys. I also enjoy hiking through backcountry trails, reading sci-fi and fantasy classics, watching the latest shounen battle anime or listening to the latest history/technology/design podcast.
-Published August 29, 2022 by Lynsey Mellon, lynsey@mie.utoronto.ca