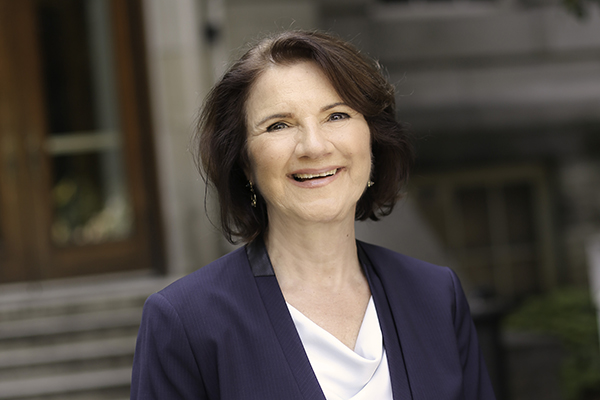 October 18, 2016 — Cristina Amon, Dean of the Faculty of Applied Science & Engineering and Alumni Chair Professor in the Department of Mechanical & Industrial Engineering, has been named an Honorary Member of the American Society of Mechanical Engineers (ASME). Amon was elected "for extraordinary contributions as a researcher focusing on heat transfer, as dean of engineering at the University of Toronto, as a leader in ASME and the broader engineering community, and as a champion for increased diversity in the profession." She will be officially inducted at the Honors Assembly on November 13, 2016 during the ASME Mechanical Engineering Congress & Exposition in Phoenix, Arizona.
Dean Amon's research pioneered the development of Computational Fluid Dynamics (CFD) for formulating and solving thermal design problems subject to multidisciplinary competing constraints. She has made pioneering contributions to concurrent thermal designs, innovation in electronics cooling, transient thermal management of wearable computers, nanoscale heat transfer, transport in biomedical devices, and optimization algorithms for renewable energy and wind farms. Her research has resulted in 16 book chapters, one textbook and more than 350 refereed publications.
Dean Amon has created several outreach initiatives at U of T to increase the representation of women in engineering, including Skule Sisters, Girls Leadership in Engineering Experience(GLEE) and the Young Women in Engineering Symposium. Her efforts resulted in a first-year cohort that is over 40 per cent women in 2016 — an increase of 100 per cent during her deanship and the highest percentage of female first-year engineering students in Canada. She has also enormously improved gender diversity in the professoriate and encouraged women to leadership positions within and beyond the Faculty. In addition, Amon is devoted to preparing graduating students for the 21st century engineering, focusing on such issues as globalization, engineering leadership, business, and the intersection of engineering/technology and public policy.
Active in professional societies and executive boards, Dean Amon has served the engineering profession with distinction and dedication. Among her many leadership roles, she has served as the inaugural Chair of the Global Engineering Deans Council, Director of the American Society for Engineering Education's Engineering Deans Council Executive Board, Chair of Engineering for the American Association for the Advancement of Science, Chair of the ASME Committee on Honors, and Chair of the Research Committee for the National Council of Deans of Engineering and Applied Science.
Dean Amon has been inducted into five academies (the Canadian Academy of Engineering, theHispanic Engineer Hall of Fame, the National Academy of Engineering, the Royal Academy of Spain and the Royal Society of Canada) and is a fellow of all the major professional and educational engineering societies in North America in her fields. She has received numerous accolades, including the ASME Gustus Larson Memorial Award, ASEE Westinghouse Medal and the ASME Heat Transfer Memorial Award. In 2010, Dean Amon received the Engineers Canada Award for the Support of Women in the Engineering Profession. In 2011 she was named one of the YWCA's Women of Distinction and received the Society of Women Engineers' Achievement Award, its highest honour. In 2012, she was named one of Canada's 25 Most Influential Women. Dean Amon received the Ontario Professional Engineers Gold Medal in 2015 — Ontario's most prestigious honour for engineering public service, technical excellence and professional leadership.