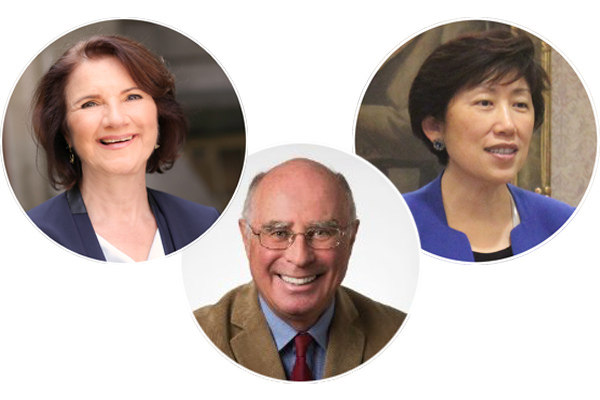 December 19, 2016 – Dean Cristina Amon, IBBME adjunct professor Tony Easty and MIE Chair Jean Zu have been recognized by the Engineering Institute of Canada (EIC) for their exceptional contributions to the profession. Amon has been selected to receive the Sir John Kennedy Medal, the Institute's most prestigious recognition, awarded once every two years for "outstanding services rendered to the engineering profession or noteworthy contributions to the science of engineering." Zu has garnered the John B. Stirling Medal, "for leadership and distinguished service at the national level within the Institute and/or its member societies." Easty has been named an EIC Fellow, for exceptional contributions to engineering in Canada. EIC award winners and new Fellows will be honoured at the Institute's Annual Awards Banquet in Gatineau, Que. on April 1, 2017.
Cristina Amon was the Raymond J. Lane Distinguished Professor of Mechanical Engineering and Director of the Institute for Complex Engineered Systems at Carnegie Mellon University until 2006, when she joined the Faculty of Applied Science & Engineering as Dean and Alumni Chair Professor in Bioengineering. As Dean, she has been tireless in her successful efforts to make U of T Engineering one of the world's leading engineering schools. She has also dedicated herself to increasing diversity in engineering and ensuring that Canadian engineers are prepared to lead the world in addressing global challenges.
Amon's research pioneered the development of Computational Fluid Dynamics for formulating and solving thermal design challenges subject to multidisciplinary competing constraints. This led to her creation of a multi-stage concurrent thermal design methodology based on hierarchical model refinement. Amon has delivered keynote lectures worldwide and authored sixteen book chapters and over 350 refereed articles. She has been inducted into the Canadian Academy of Engineering, the Spanish Royal Academy, the Royal Society of Canada, the Hispanic Engineer Hall of Fame and the U.S. National Academy of Engineering, and elected Fellow of all the major professional societies in her field. In 2015 she received the Ontario Professional Engineers Gold Medal, Ontario's most prestigious engineering honour.
Jean Zu has served as Chair of the Department of Mechanical & Industrial Engineering since 2009. Her research on vibrations and dynamics, particularly in relation to automotive belts and serpentine belt drive systems, has resulted in a number of extremely successful partnerships with automotive firms.
Zu has a distinguished record of leadership in the engineering community. As President of EIC from 2012-2014, she increased the Institute's online presence and worked to expand its membership base. She served as President of the Canadian Society for Mechanical Engineering (CSME) from 2006-2008, implementing many initiatives to improve member services and increase the Society's influence. She has also served on the CSME board and as a member of the National Council for EIC, as well as General Assembly representative on the Canadian National Committee for the International Union of Theoretical and Applied Mechanics. She was Co-Chair of the Institute of Electrical and Electronics Engineers International Conference on Mechatronics and Automation in 2009 and Chair and host of the 2014 CSME International Congress. Zu is a Fellow of the American Association for the Advancement of Science, the American Society of Mechanical Engineers, the Canadian Society for Mechanical Engineering, the Canadian Academy of Engineering, and the Engineering Institute of Canada.