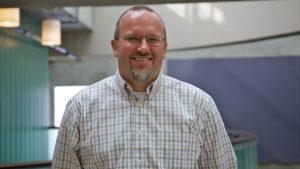 November 14, 2017 – "The global fibrosis network" led by Professor Craig Simmons (MIE/IBBME), U of T Distinguished Professor of mechanobiology,  is one of five ambitious global research projects at the University of Toronto that will share $1.23 million this year from the Connaught Global Challenge Award.
The internal award, funded by the Connaught Fund, is designed to support new collaborations involving leading U of T researchers and students from several disciplines, along with innovators and thought leaders from other sectors. This year, external collaborators include multiple prestigious universities, Indigenous community health organizations, global corporations and justice-minded non-profits.
The Connaught funding will help these programs get off the ground and boost efforts to find external funding to further develop solutions to global challenges, as well as possibly create new research-oriented academic programs.
Fibrotic diseases, which affect multiple organs and can cause severe pain, affect 2.5 billion people worldwide and cost health-care systems an estimated $200 billion. World-leading scientists and clinicians at U of T and its affiliated hospitals have made significant strides in fibrosis research. They've now joined forces to share their findings to tackle fibrosis together. With the help of the Connaught funding, this local fibrosis network will go global to foster pioneering research and strengthen innovation and training capacity.
Simmons' team includes fellow U of T scholars who specialize in matrix dynamics, public health economics, diabetes complications, as well as collaborators from the Wellcome Trust Centre for Human Genetics at the University of Oxford, the University of Cincinnati, University of Bergen, Norway, The French National Center for Scientific Research (CNRS), University of Paris, and major global industrial partners to come.