In early April, fourth year MIE students wrapped up their final capstone projects. Despite the added challenge of meeting with clients and collaborating with their team fully online, the resulting projects were a great success.
"The caliber of work the students accomplished is remarkable," said Markus Bussmann, MIE Department Chair, "The flexibility and resilience our students have shown throughout their final year at MIE will certainly help them as they move on to their future careers."
Each year both MIE490 and 491 select the top-scoring projects to receive awards. From an app that helps determine the least-populated route to get to your destination to a multi-patient ventilator, many of this year's winning projects were related to finding solutions to new challenges the pandemic has brought to light.  We're pleased to highlight the winning projects and the innovative solutions for their clients' needs.
Industrial Engineering Project Winners
First Place & The Peri Family Industrial Engineering Design Award: Stop the Spread: COVID-19 Public health Policy Decision Support
Project Team: Olivia Bierman-Dyk, Clara Birch, Jean Carlos Cedeno Bravo, Catherine Grace Lloyd
Client: Medical Operations Research Lab, University of Toronto Supervisor: Dionne Aleman
The Medical Operations Research Lab (morLAB) at the U of T has been engaged by a provincial public health department to assist in making informed decisions about COVID-19 policies. Together, they integrated real public health data provided by the province into the morLAB Pandemic Outbreak Planner (morPOP). To bridge the gap between Public Health's expertise and the complex simulation model output, the design team created a decision support system (DSS) consisting of a statistical analysis to determine the most effective policies and a user interface to display the results.
Second Place: COVID-19 TravelSafe Navigation Tool
Project Team:  Helen (Dingyuhan) Wang, Gigi (Yingzhi) Liang, Kelly (Yixin) Sun, Joyce (Qiaoyi) Yan
Client: Mott MacDonald Canada Limited (MM) Supervisor: Scott Sanner
During the COVID-19 pandemic, pedestrians are more circumspect when traveling within the Greater Toronto Area. Similar situations are present around the world. Among the existing navigation tools, little has been done to incorporate the risk of exposure to the COVID-19 virus in the route planning phase. As a result, pedestrians need a practical way to reduce their traveling risk. The team developed a web-based application that customizes routes based on user preferences on travel time and risk to interactively assist decision making in pedestrian and public transit travel.
Third Place: C.O.P.S: COVID-19 Outcome Prediction System
Project Team: Golbarg Eslami, Hanin Afzal, Min Jue Kim, Parastou Hadizadehmoghaddam
Client: Medical Operations Research Lab, University of Toronto Supervisor: Dionne Aleman
The COVID-19 pandemic emphasizes the need for time-sensitive and evidence-based public health policy decisions. The Medical Operations Research Lab (morLAB) uses a large-scale agent-based simulation tool called morPOP (morLAB Pandemic Outbreak Planner) to inform public health decisions around a Canadian province's COVID-19 response. However, running simulations and analyzing the results is time-consuming, and requires niche expertise. Therefore, there is a need for a faster method to assess simulation outcomes without relying on model experts. This project makes accurate policy outcome predictions available for ad-hoc analyses through a machine learning system easily utilized by public health officials and other intended users.
Mechanical Engineering Project Winners
First Place: Efficient COVID-19 Test Strip Manufacturing Devices
Project Team: Jungho J. Kim, Eason Ong, Jianfei Pan, Richard (Qiwei) Zhao
Client: University of Toronto Bio-MEMS Lab Supervisor: Xinyu Liu
Lateral flow test strip (LFT) is a simple and economic point of care diagnostic device used to detect the presence of a target analyte in liquid samples. The client requires a continuous supply of LFT to aid their research regarding COVID-19 and other viruses diagnostics. Current LFT laminators and cutters in the market are costly (>10000 CAD combined), complex to operate and are more suited for industrial application. The project team was able to successfully design a low-cost and efficient laminator and cutter for their client.
Second Place: How Adjustable Adhesion Improves Mechanical Gripping
Project Team: Chloe Shao, Claire Gledhill, Liina Sadul, Michelle Ji
Client: The Hatton Lab Supervisor: Matthew Mackay
The Hatton Lab has developed adjustable-adhesion surfaces made of silicone that can vary the frictional force exerted on an object. A mechanical gripper design was requested by the client in order to evaluate the effectiveness of the adjustable-adhesion surfaces and to demonstrate their functionality in a practical device. The project team designed and built a prototype to serve as a testing platform to demonstrate the practical use of the gripping surfaces.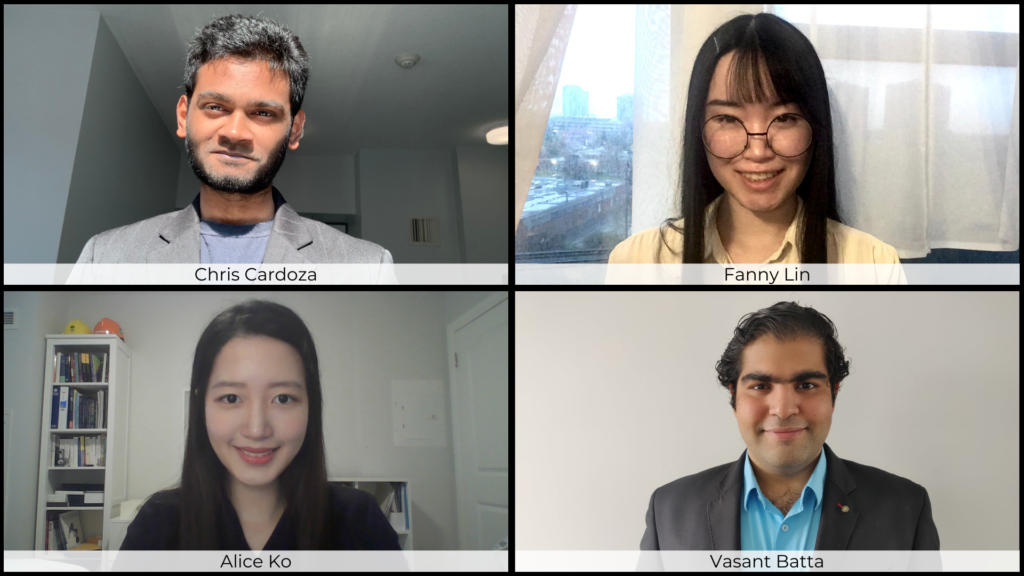 Third Place: Multi-Patient Ventilator for Covid-19 (100-PV)
Project Team: Fanny Lin, Chris Cardoza, Vasant Batta, Alice Ko
Client: HH Angus Ltd., Sinton Lab Supervisor: David Sinton
In response to the ventilator shortages due to the COVID-19 pandemic, the project team designed a multi-patient ventilator that can provide mechanical ventilation to multiple respiratory illness patients through a single centralized gas processing system. This design challenges existing multi-patient ventilators' inability to provide per-patient tunability, and aimed to deliver a product whose output is individualized to meet the needs of each patient.
Congratulations to the winning teams and to all of our Capstone students – we can't wait to see what you go on to do next! To see the full range of projects completed this year, take a look at the Capstone Design Projects booklet.
-Published on May 3, 2021 by Lynsey Mellon, lynsey@mie.utoronto.ca