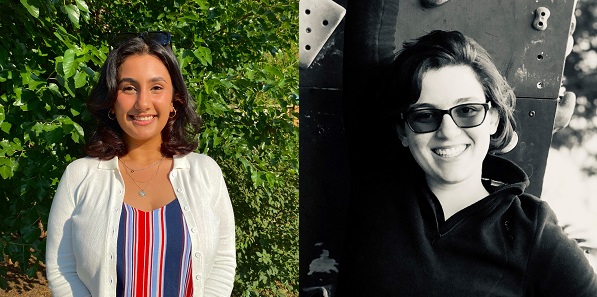 As we prepare for the start of a new academic year we wanted to introduce you to Tanishq Singh (IndE 2T1+PEY) and Minnie Menezes (MechE 2T2), the Indy Club and Mech Club Chairs for 2021-2022.
We'll be back on campus in a few weeks to start the new academic term. How's your summer been?
Tanishq: I returned to Deloitte this summer for my second term with them of my four PEY internship placements. I've been doing systems engineering consulting and have spent the summer working on three separate client projects. I've had the opportunity to work as both a full-stack developer and a functional consulting analyst at the firm. I've also spent a lot of time getting ready for the new school year and making plans to set Indy Club up for success.
Minnie: I've spent this summer as a research student in the McGuigan Lab in the Department of Chemical Engineering & Applied Chemistry which focuses on tissue architecture, patterning and microenvironment design. I plan to go to grad school after completing fourth year and set my schedule up so I can gain some research experience in the summers. It's my first time doing research and it's been awesome to get a feel for what it's like to be part of a lab team.
Tell us a little about how you became a student leader.
Minnie: I first got involved in second year. I spent first year managing the transition to university and building a group of supportive friends. During first year, I helped my friends find clubs they were interested in and solved problems together and that inspired me to put my energy into helping the wider Mech community. I decided to run for second year rep and really enjoyed that experience so I did the same for third year. While we were completely online, I realised I had lots of ideas on how I could help develop Mech Club so I decided to run for Chair.
Tanishq: I made it a goal in my first year to meet as many other first year Indy students as possible. I was active in different leadership positions in my high school and decided to run for first year class rep. I had a great experience and loved knowing I could make a positive impact so I stuck with it. I've also served as Social Director and Vice Chair.
What plans do you have for the upcoming year as Mech/Indy Club Chairs?
Minnie: After spending so much of the last year and a half online I can see how important it is to have good communication to build strong connections. I want to focus on building open lines of communication between the Executive Committee and student reps and also between the students and their reps so Mech Club can serve them best. I'm looking forward to working with the team to make Mech Club approachable – I want our undergrads to know they are part of a friendly and open community.
Tanishq: I really want to focus on developing our mentorship program. I had two mentors in first year who helped me make connections and find my place in the community. I want develop training that will help build meaningful relationships between first and upper year students. I also want to focus on the international student community. We've added an International Relations Director to our team as we realized there can be circumstances that are unique to international students where they may need additional support.
What advice do you have for first year students or those who may be joining us on campus for the first time?
Tanishq: The number one thing is don't hesitate to reach out when you need help. It's okay to be stressed, it's okay to struggle, you might feel like you're the only person going through it but that's not the case.
Minnie: Exactly – reach out if you need help. There are so many resources out there and people to help you find them if you're not sure where to start. You can go to the Undergrad Office, the First Year Office, your peers – especially those of us in Mech/Indy Club – or even your professors. Everyone wants you to succeed and people are often way more willing to help than you might expect. Start that conversation and see where it takes you. Don't hold in your questions, worries, or experiences, share them with those around you and you'll be surprised what can come from that.
Tanishq: And attend events! Even if it's a little outside of your comfort zone, push yourself and get involved. You'll gain new skills, friendships and opportunities by attending events both within MIE and the wider Skule community. Make the most of your time here!
You can reach out to Tanishq and Minnie on LinkedIn to learn more about Indy & Mech Club or the MIE community. Don't forget to follow @indyclubuoft and @mechclub on Instagram to stay up to date.
-Published August 31, 2021 by Lynsey Mellon, lynsey@mie.utoronto.ca