Michael Mohan (MIE) is a PhD candidate supervised by Professor Edmond Young (MIE) in the Department of Mechanical and Industrial Engineering. He joined the Department in September 2017 to begin a Master's degree and quickly became inspired to continue his graduate studies in order to pursue cancer research.
Michael's current research focuses on recapitulating key features of the pancreatic cancer tumor microenvironment using microfluidic technology. He hopes that this technology can be used to better understand characteristics that influence treatment resistance in pancreatic tumors.
Outside of his PhD studies, Michael is a steelpan musician performing with many bands in and around Toronto and recently performed at the Pan Alive and Grande Parade events as a part of the Toronto Caribana festival.
"After completing my undergraduate degree at University of Guelph, I was excited to return to Trinidad and finally obtain a steelpan of my own," says Michael. "The steelpan is Trinidad's national instrument and it served as a connection to my culture when I returned to Toronto to begin my graduate studies."
When Michael first arrived in Toronto, he struggled to find community and feel like he belonged. It felt challenging at times to make connections and fit into a new culture. It was only when he connected with a Toronto-based steelpan tuner in October 2019, Michael discovered the vast network of Caribbean people and musicians here in Toronto.
"I did some research to find a professional tuner in Toronto and when I took my instrument in, I asked if he knew of steelpan groups that needed more players, that's how I connected with a group that played on Tuesday evenings," says Michael. "Suddenly I had a whole community of people from my culture that shared my passion for the steelpan."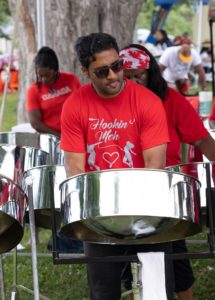 Through this group of steelpan musicians Michael became a member of the Afropan Steelband and had the opportunity to perform at the Caribana Festival in July 2022.
"It was such an amazing experience to perform at Caribana," says Michael. "We rehearsed every evening throughout the summer and it was truly an honour to be able to share our culture and music with Torontonians. I felt like I had been transported back to Trinidad! It was a fantastic celebration of Caribbean culture."
As we welcome new and returning students to campus this fall Michael hopes others can learn from his experience.
"It can be overwhelming starting a new program in a new city and it's really easy to feel isolated. The best advice I can give to others who might be feeling this way is to be courageous – reach out to others and seek connections," says Michael. "You can start with your lab mates or classmates, they will have similar experiences as you and may even be feeling the same way. There are so many ways to build community, start with following your interests and see what you find."
-Published August 22, 2022 by Lynsey Mellon, lynsey@mie.utoronto.ca