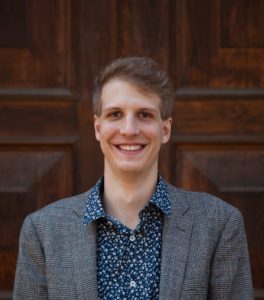 Max Glidden's (MechE 2T0+PEY) pathway to convocation this June wasn't as straightforward as he imagined it would be when he first arrived at U of T in the Fall of 2015. As he moves on from MIE and looks forward to beginning a career in the aerospace industry he can safely say that while things don't always go according to plan it doesn't mean your goals can't be achieved.
Max started his first year at U of T as an EngSci student and while there were lots of opportunities to get involved while living on campus, he found his first year to be really difficult academically. After taking a short break, he opted to transfer to mechanical engineering and completed his first year as a part-time student. It was starting over in a new program with new peers that inspired Max to get involved as a student leader.
"It was a bit of a change when I first started with MIE, the friends I made previously were mostly in EngSci and a year ahead of me. I remembered how important the student leaders had been in building connections in my first year and opted to run for Second Year Class Rep to help get to know my new classmates," Max recalled, "I've been involved in student government ever since."
During his time at MIE, Max has remained focused on building connections and trying to enhance the experience his peers have both within the department and the wider Skule community.
"One of the most memorable things I've done over the last 6 years was help to run the student pub. I really focused on making the space more inclusive so it could appeal to a wider range of students," Max said, "Outside of that, I also developed as a leader and learned valuable project management skills that helped me succeed during my PEY placement."
Engaging with and advocating for his peers has been a big part of Max's experience at MIE. He has served as a Class Rep and Vice-Chair of the Mech Club, acted as a Frosh leader and has capped off his final year as the Mech Club Chair.
"It was challenging to move all of our activities online, but I'm really proud of the events that we organized and the support we could provide Mech students throughout the pandemic," he said.
Now that Max has wrapped up his degree he's been busy with interviews to launch his career in the aerospace industry. Looking back on his journey to graduation Max has two key pieces of advice for current and future engineering students:
"Find something you love and make time for it every week. It doesn't have to be related to academics, for me it was climbing, but it gives you an opportunity to clear your mind and de-stress. Most importantly, remember your education is not a race and your path can look different from someone else's. When things don't go how you planned, that's okay. Be kind to yourself and find a new way forward," he says, "At the end of they day you're doing this for you, so take your time and make the most of the experience."
We want to get to know you! Do you have a story to share with the MIE community? Reach out to newsletter@mie.utoronto.ca to be featured in the Community Spotlight.