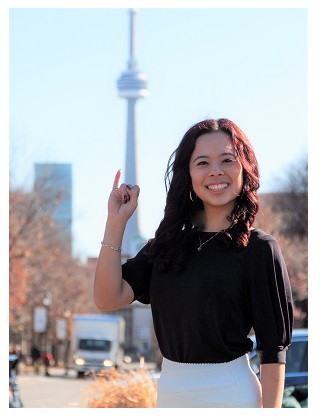 Kimberly Lai (MASc Candidate, EngSci 1T9+PEY) didn't originally plan on pursuing a Master's degree after graduating last year but with COVID-19 limiting job prospects in the aerospace industry and some encouragement from Professor Alison Olechowski, she is now working towards her graduate degree and completing research she is truly passionate about.
Kimberly's research is in the relatively new field of model-based systems engineering (MBSE). She first discovered her interest in this area during her PEY placement with Safran Landing Systems. Kimberly is now advancing her MBSE research with Safran as her industry partner.
"When I first started my PEY placement I wasn't familiar with MBSE. I spent a lot of time getting up to speed to succeed at my job. I essentially completed a crash course on MBSE in the first couple of months, I spent a lot of time doing readings, watching videos and building up my knowledge," said Kimberly.
Her work at Safran provided inspiration for her undergraduate thesis which recently won the Best Student Paper Award from the International Council on Systems Engineering (INCOSE). The paper explored how safety analysis could be integrated into model-based systems engineering for aircraft systems and was very well-received by Safran which prompted discussions for further work.
"It was during my undergraduate thesis that I first connected with Professor Olechowski and the Ready Lab. I ended up helping out on a summer project and learned about the opportunity to complete a research project with an industry partner," Kimberly explained, "It was the perfect opportunity to continue working on something I'm really passionate about while addressing industry needs."
Kimberly has plenty of good advice for fellow engineering students to make the most of their time at U of T and explore their interest in research. As an undergrad she was very involved with the Engineering Athletics Association, was a member of the Varsity tennis team, part of the Varsity board, an executive director of the Blues Engineering Organization and the director of the last in-person grad ball. She was also a recipient of the U of T Student Leadership Award in recognition of her contributions.
"I definitely recommend students get involved, not only will you get more out of your university experience, you will also learn a lot of transferable skills such as leadership, communication, and time management. These are all skills that help me stay on top of my research and present my work to stakeholders."
If you're interested in exploring research during your undergrad Kimberly recommends exploring the different lab group websites or faculty bios to find the research areas you are interested in and then reaching out to both the professor and graduate students in the lab.
"As graduate students we can try reply to your email a little quicker and may be able to give some advice about what type of research opportunities might be coming up," Kimberly explained, "Most importantly, pursue something you are excited about. Research projects take a lot of time and effort – you need to enjoy doing it!"
We want to get to know you! Do you have a story to share with the MIE community? Reach out to newsletter@mie.utoronto.ca to be featured in the Community Spotlight.