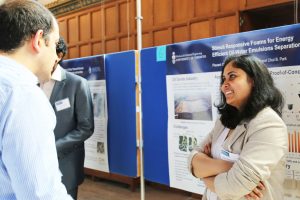 May 23, 2017 – On May 18, MIE graduate students brought their research excellence to the forefront at the 8th Annual MIE Graduate Research Symposium. The event saw nearly 80 research projects on display at Hart House, through poster and oral presentations. The research topics ranged from designing a summative evaluation of ambient activity technologies for people with dementia, to optimizing solar powered reverse osmosis drinking water treatment systems for remote communities.
"At MIE, we are proud to have some of the best and brightest graduate students in the world, who conduct cutting-edge, innovative engineering research," said Professor Chi-Guhn Lee, Interim MIE Chair and Associate Chair for Graduate Studies. "I congratulate you on all you've accomplished so far. Through your commitment to excellence, you are strengthening our reputation on the world stage and maintaining our long-standing tradition of fostering engineering leaders."
The event also featured two keynote lectures from renowned engineers and U of T alumni, Professor Ali Khademhosseini  of Harvard Medical School, Harvard-MIT's Division of Health Sciences and Technology, and Cameron Ower (MechE 8T3, MASc 8T6), Chief Technology Officer for MDA's Robotics and Automation business.
The sympsosium ended with Professor Edmond Young, the symposium's faculty coordinator, announcing the winners of the best oral and poster presentations. The winners are:
Advanced Materials, Applied Mechanics and Robotics
1st place Oral Presentation:  Jiachen Zhang, "Reliable Grasping of Three-Dimensional Untethered Mobile Magnetic Microgripper for Autonomous Pick-and-Place"
1st place Poster Presentation: Tianqi Xu, "Photopolymer-based Fabrication of a 3D Magnetic Microgripper"
Industrial Engineering
1st place Oral Presentation: Chang Liu, "Exact Methods for the Senior Transportation Problem"
1st place Poster Presentation: Carolyn Busby, "The Influence of Surge Protocols in Hospitals"
Energy, Thermal and Fluid Sciences
1st place Oral Presentation: Aleem A. Hasham, "Improving Oil Sands Recovery: Profiling Bitumen Viscosity in Response to Heat and Diluting Agents"
1st place Poster Presentation: Pavani Cherukupally, "Stimuli-Responsive Foams for Energy-Efficient Oil/Water Separation"
Biomaterials & Biomedical Engineering
1st place Oral Presentation: Christopher Yee Wong, "Automation of blastomere extraction during embryo biopsy"
1st place Poster Presentation: Shashi Malladi, "In-flow formation of Aligned Protein-Based Biomaterials"