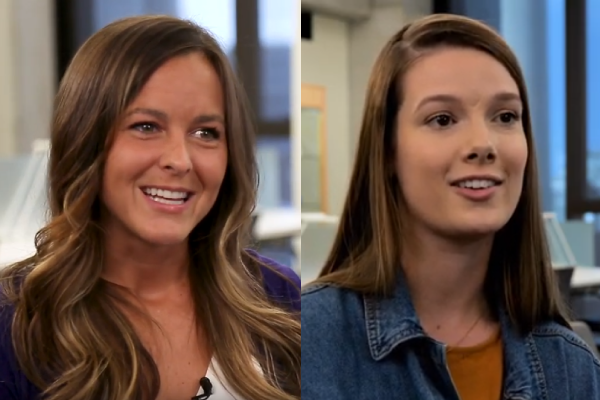 Holly Johnson (MechE 0T9 + PEY) and Emma Sexton (IndE 1T9) were among thirteen U of T Engineering alumni who were recognized at the annual Engineering Alumni Network Award Ceremony on November 7, 2019. Holly won the 7T6 Early Career Award and Emma received the L.E. (Ted) Jones Award of Distinction.
Since graduating from MIE, Holly Johnson has risen quickly in the Canadian space industry. During her Professional Experience Year, she worked with MDA, Canada's largest space company and the builder of Canadarm. She continued to work with MDA after graduating from MIE and is currently the President's Business Manager.
Holly won the Northern Lights Aero Foundation Rising Star Award in 2016, was selected as a Top 40 under 40 2019 recipient by the City of Brampton and was presented with the University of Toronto Engineering Alumni 7T6 Early Career Award in the fall of 2019.
---
Emma Sexton excelled both in and out of the classroom during her time in MIE's Industrial Engineering undergraduate program. When she wasn't studying, she devoted much of her time to writing, directing and performing in Skule™ Nite productions, the annual U of T Engineering musical and comedy revue hosted by the Engineering Society. Emma says her involvement with the revues allowed her to explore her creative interests while also learning more technical skills from her engineering courses.
Emma's involvement with Skule™ Nite is one of the reasons she won the L.E. (Ted) Jones Award of Distinction presented by the University of Toronto Alumni Network in 2019.
–Published November 13, 2019 by Pam Walls, pam@mie.utoronto.ca