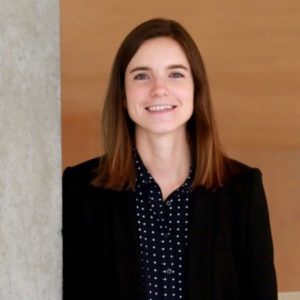 Recognizing an early career educator who has demonstrated exceptional classroom instruction and teaching methods.
Professor Alison Olechowski joined the Faculty in 2017 and is jointly appointed to MIE and ISTEP. She has taught six different courses, covering both the Mechanical and Industrial engineering programs as well as Troost ILead, and completely redesigned MIE459: Organization Design.
Beyond her classroom teaching, Olechowski is an emerging leader in engineering education research. She has regularly presented at the annual conferences of the Canadian Engineering Education Association and the American Society for Engineering Education (ASEE) and has twice won best paper awards from ASEE for her work exploring traits such as confidence, leadership and risk orientation in different groups of engineering students. Olechowski serves on the committee that launched a Canada Design Workshop and is working with computer-aided design (CAD) education researchers nationwide on an initiative to make CAD labs more accessible for students.
She is an active supervisor of the Spark Design Club and the U of T Aerospace Team and is currently mentoring two high school students through the Girls SySTEM Mentorship program. In 2018 Olechowski received a Dean's Spark Professorship and a Technology Enhanced Active Learning Fellowship. She garnered the MIE Early Career Teaching Award in 2021.
– This story was originally published on the University of Toronto's Faculty of Applied Science and Engineering News Site on April 26, 2023 by Carolyn Farrell.