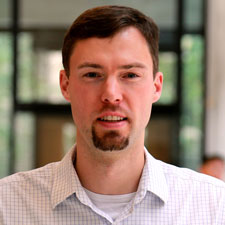 Professor Eric Diller has won the Early Career Award from the Robotics & Automation Society (RAS) of the Institute for Electrical & Electronics Engineering (IEEE) for his work in micro-scale robots.
The award recognizes a researcher who is in the early stage of their career in the robotics and/or automation field.
Diller's research focuses on bringing magnetic wireless small-scale robots from an untested concept to application. Since starting his research group at U of T Engineering he has made significant advances in fundamental new capabilities for actuation and control of novel biomedical microdevices. Along with his academic, clinical and industry partners, his team's work is helping to catalyze commercialization.
Diller's robotics research advancements has been recognized recently by the Ontario Early Researcher Award, and the U of T Connaught New Researcher Award, the U of T Engineering Dean's Catalyst Professorship, and the Canadian Society of Mechanical Engineering's I.W. Smith Award for research contribution.
The 2020 Early Career Award was co-awarded to Professor Diller alongside Professor Alberto Rodriguez from the Massachusetts Institute of Technology (MIT) who was recognized for his contributions to dextrous robot manipulation