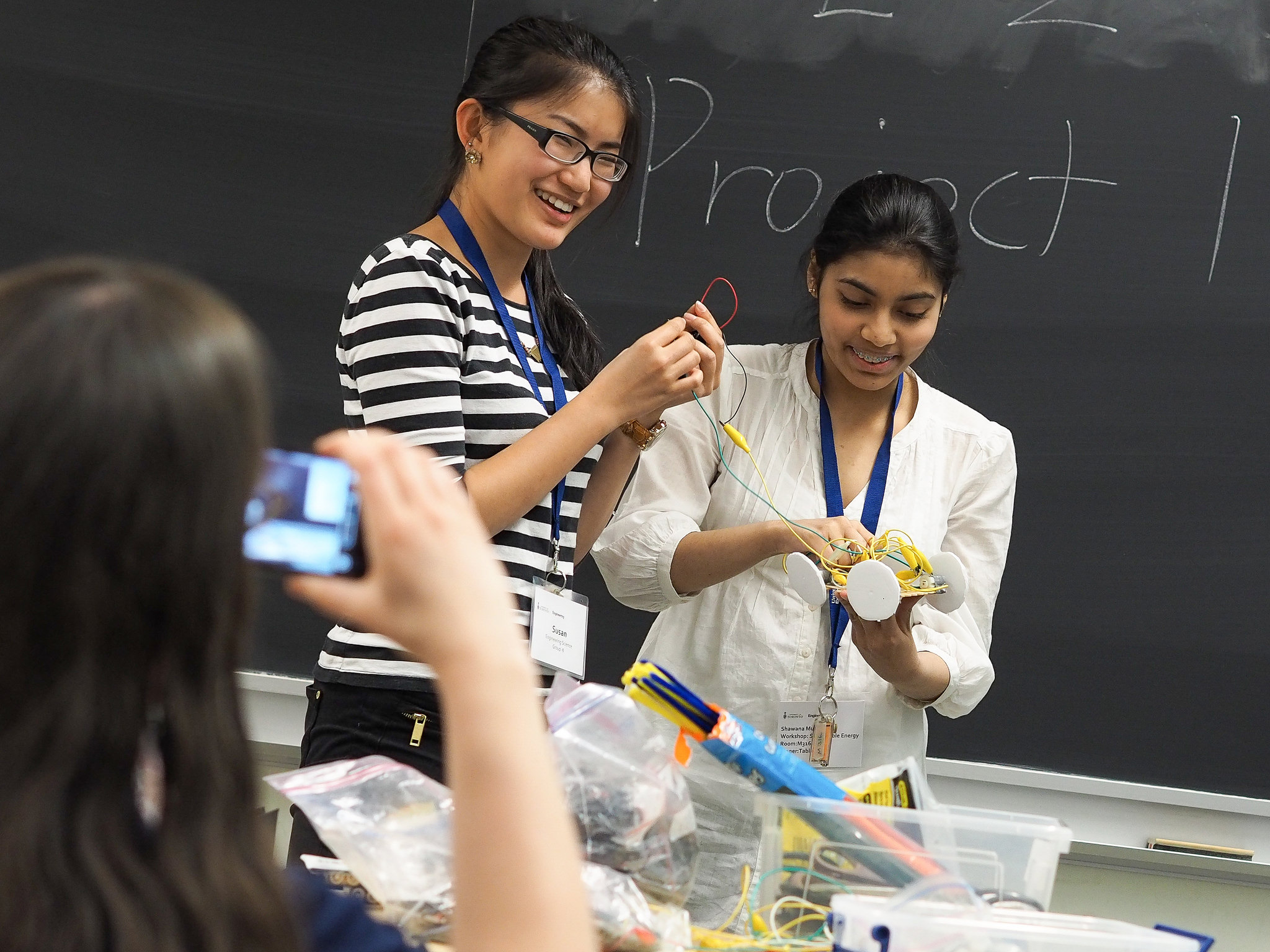 June 8, 2015 — GLEE is part of the Faculty's strategy to increase diversity, particularly gender diversity, which is a key goal of the Academic Plan. In 2014-15, women made up 30.6 per cent of the first-year class, the highest proportion of any entering engineering class in Canada.
9:55 a.m. – Registration
The lobby of the Galbraith Building is already buzzing with activity. A line of young women lugging suitcases and backpacks snakes toward a table covered with nametags, while others try on t-shirts or stand in twos and threes, chatting with other attendees.
All of these women — more than 80 in all — have earned admission to U of T Engineering this fall. And they have travelled here from across Canada for GLEE to learn more about the Faculty, meet their future classmates and get a taste of student life.
"U of T is awesome, and we're going to spend the weekend showing you why," exclaims one Engineering student volunteer as she leads a group of GLEE participants to the first session of the day.
10:30 a.m. – Welcome and Student Panel
"This is definitely an inclusive environment — a close-knit community that is welcoming to all students," Michelle Beaton, associate director of the Engineering Student Recruitment & Retention Office, tells GLEE participants before turning the microphone over to the weekend residence advisors, upper-year engineering students who have volunteered their time to make the program a success.
"Last year, we were in the exact same boat as you are now: deciding whether or not to come to U of T for engineering," says Lauren Reid (Year 2 EngSci), who took part in GLEE last year and has just completed her first year of Engineering Science. "After the weekend at GLEE, I can tell you that the choice was pretty easy for us."
The lively question-and-answer session that follows provides a candid and often humorous view of life at U of T Engineering. "Was the transition from high school as scary or even scarier than you expected it to be?" asks one GLEE participant. "Yes," blurts out a residence advisor to gales of laughter, before clarifying that first year is a big learning curve and one of her biggest challenges was learning how to study effectively in a university environment. Others talked about the range of supportsthat are available to first-year students, including the First Year Office, Success 101 seminars, professors and teaching assistants, peer study groups and online resources.
Other questions include how to balance academics with extra-curricular activities and commuting, what minors students can take and whether the residence advisors knew for certain when they started first year that they wanted to be engineers. The upper-year students reassure the audience that while life as an engineering student can be demanding, they will be part of a tight-knit and supportive community that will help them succeed. They also dispense practical advice: make friends, take time away from your studies to relax and have fun, and don't pull all-nighters.
1 p.m. – Workshops
After lunch, the women begin to forge bonds with their future classmates during experiential workshops that range from sustainable energy to leadership.
With two other GLEE participants, Janice Zhou uses everyday items to fashion an arm that can pick up a cup from a distance, lift it in the air, invert it and set it back down.
"I've always heard the rumour that there aren't a lot of girls in engineering programs and I got a little scared of that," says Zhou, who is from Toronto and has already accepted her offer of admission to TrackOne. "But now I feel like I have a lot of peers and they all seem really nice and really smart. So I think GLEE really helped me gain some confidence."
After attending a workshop on biomedical engineering, Sabahat Hussain, a Mississauga high school student who will be studying Engineering Science in the fall, says the most important thing she is learning at GLEE is that "school is not just about the marks. It's all about the whole community and getting involved. That's what I'm looking forward to."
2:45 p.m. – Career Panel
A career panel made up of U of T Engineering alumnae discusses topics including what it's like being a woman in engineering, how to integrate a career and family, and pathways available to graduates beyond engineering, including law and medicine.
"If I can be some inspiration to other people and shed some light on certain things to encourage other people to take a really exciting path, then it feels like a really great thing to do," panellist Isi Caulder (EngSci 8T9, ElecE MASc 9T1, LLB 9T5), a partner and patent lawyer at Bereskin & Parr LLP, says of volunteering for the panel.
Some of the students have already made up their minds. "There's so many places you can go with engineering," says GLEE participant Olivia Roscoe, who plans to combine computer engineering studies with Varsity volleyball. "You can go into any field and I've always liked the problem-solving piece of it. I've wanted to be an engineer since I was eight years old. It's something I've always wanted to do."
6:45 p.m. – Dinner
Dean Cristina Amon greets GLEE participants at a dinner at Strachan Hall at Trinity College. "You are among the best and the brightest, you are hard-working and you have high aspirations — and I believe you belong here," she tells them. "I look forward to welcoming you this fall as part of our entering class."
During dinner, Professor Angela Schoellig of the University of Toronto Institute for Aerospace Studies (UTIAS) encourages the students to follow their passions and shares her research on robotics, controls and machine learning. She also demonstrates one of her flying robots.
And Dr. Micah Stickel, chair of first year and emcee for the evening, jokes that the students likely recognize him from the instructional video for the new "personal profile" component of the U of T Engineering admission process.
8:30 p.m. – Evening Activities
GLEE participants and residence advisors convene in the Trinity College quad for an evening of fun, friendship and snacks. "It's like a giant slumber party," says Tessa Pietropaolo (Year 4 IndE), the lead residence advisor.
After a night in residence, many of these young women stay on Sunday for the Faculty's "Welcome to Engineering" events, where they learn more about the academic and co-curricular community they will become part of in the fall.