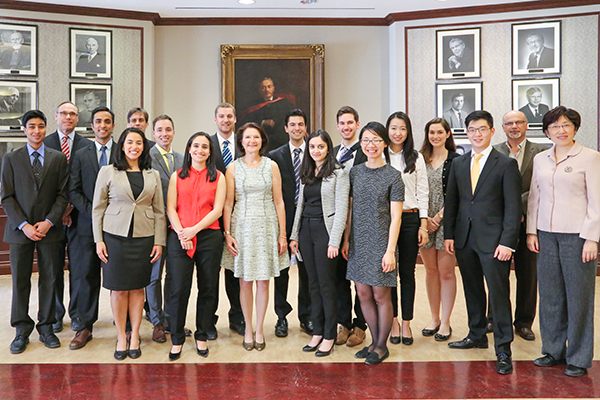 April 22, 2016 — IndE students Jaquelyn Monis Rodriguez (Year 4 IndE + PEY) and Rong Yao (Year 4 IndE + PEY) are among 15 U of T Engineering students to receive a 2016 Gordon Cressy Student Leadership Award.
"The outstanding leadership co- and extra-curricular contributions of our Cressy Award winners have enriched and strengthened U of T Engineering, the University and the larger community," Dean Cristina Amon said. "I am confident that the competencies and experiences they have gained through these activities will uniquely position them to become global engineering leaders in their lives beyond graduation. I extend my warmest congratulations to each of them, on behalf of the entire Faculty."
Jaquelyn Monis Rodriguez
In the summer of 2011, Rodriguez had travelled from Venezuela to Toronto for her final year of high school and was attending the Da Vinci Engineering Enrichment Program (DEEP) Summer Academy. There, she heard a representative from the Institute for Leadership Education in Engineering (ILead; then called Leaders of Tomorrow) deliver a workshop on the topic of leadership — an experience that inspired her to adopt leadership roles when she joined U of T Engineering as an undergraduate student.
Five years later, Jaquelyn has been named one of 15 U of T Engineering students to receive a 2016 Gordon Cressy Student Leadership Award at a ceremony held at Convocation Hall on April 20.
"It's very prestigious recognition," she said. "I'm honoured that [U of T] acknowledges my development and growth as a leader, as well as the impact and influence that I've had in the U of T community."
Named after the former U of T Vice-President of Development and University Relations, the Gordon Cressy award recognizes graduating students who have demonstrated leadership qualities by contributing to the improvement of the world around them and inspiring others to do the same.
Rong Yao
Rong has been an active and ambitious member of the community during her time at U of T Engineering. In her first year, she was a founding member and logistics director of Skule's Got Talent — an annual showcase evening for engineering students. Over the next few years, she was marketing director and yearbook director for the Engineering yearbook, marketing director of the Chinese Engineering Student Association and competition director of UTEK. Rong also held the position of marketing director for YNCN: Launchpad, where she helped students further their career development by growing the event. Currently, she is president of the 881 Drama Club and leads a team of over 100 directors, actors and backstage members.