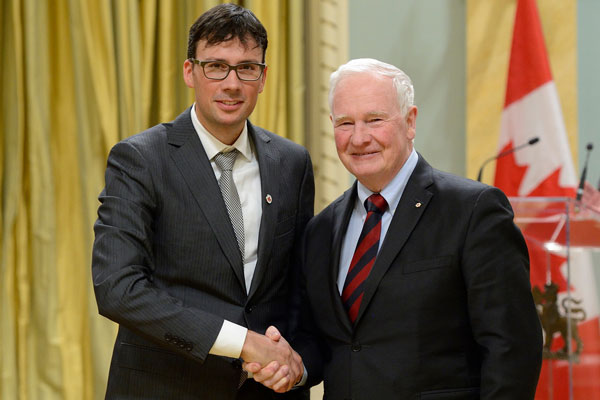 February 16, 2016 — Professor David Sinton (MIE) of the University of Toronto's Faculty of Applied Science & Engineering has been awarded a 2015 E.W.R. Steacie Memorial Fellowship from the Natural Sciences and Engineering Research Council (NSERC).
The award will support Sinton's research into optimizing the growth of algae and cyanobacteria — photosynthetic microorganisms that can use solar energy to convert carbon dioxide (CO2) into chemical products and ultimately fuels.
Though commonly thought of as "pond scum," algae and cyanobacteria are among the fastest-growing photosynthetic organisms on earth. Some species accumulate high levels of fat and oil which could be refined into biofuels, or sugars that could be fermented into ethanol.
Despite decades of research, there is still much uncertainty about the exact conditions that each species needs to grow at its optimal rate, or accumulate the most product. The number of variables — light intensity, light spectrum, nutrient and CO2 levels, temperature and more — makes designing experiments to cover all possible combinations both difficult and costly.
Sinton and his team are addressing that problem using their expertise in microfluidics and optofluidics, two fields that look at how fluids and light can be conducted through very small channels or optical conductors. They recently designed a "lab on a chip" that contains hundreds of individual chambers in which the microorganisms can grow.
Each chamber sits on top of a single pixel from an LCD screen, allowing the researchers to control the light conditions with precision. The chamber acts as a self-contained greenhouse where the organisms can be grown on blue light, red light, bright light, pulsing light and a host of other possible conditions. The next stage is to expand the device and allow researchers to vary CO2, O2, and nutrient levels across all chambers.
The platform could be expanded to thousands of chambers, allowing for simultaneous testing of many combinations of factors to find the best conditions for fast growth, oil accumulation or any targeted outcome for a given species of algae or cyanobacteria. The results will help researchers design large-scale facilities for microbial energy production.
"Professor Sinton's innovative work offers a new approach to key challenges in energy and sustainability," said Cristina Amon, Dean of the Faculty of Applied Science & Engineering. "On behalf of the Faculty, I warmly congratulate him on this award."
Sinton was presented with the award today at Rideau Hall in Ottawa. He is one of six researchers across Canada to receive an E.W.R. Steacie Memorial Fellowship. Named after pioneering Canadian chemist Edgar William Richard Steacie, the awards provide up to $250,000 over two years to enhance the career development of outstanding and highly promising scientists and engineers.